Window Genie Franchise vs. Fish Window Cleaning: What's the Difference?
Entrepreneurs are always looking for the right investment. When prospective business owners find window cleaning, they are frequently impressed by the business model featuring low overhead and consumer demand that lends itself to long-term success. There are countless window cleaning companies in the United States, many of them independent small businesses. However, franchising offers entry into that same high-quality business opportunity with the training, support, and brand awareness that brings customers to your business.
When looking into window cleaning companies, many entrepreneurs find themselves looking into a Fish Window Cleaning or Window Genie franchise. But what makes these two brands and businesses differ from one another? Why is Fish Window Cleaning so popular, and how did it become the largest window cleaning franchise in the nation? Let's break down the differences between FISH and Window Genie so that you can make a decision that will lead you to the right fit, putting you in the best position for your professional and personal life.
The Window Genie Franchise Story
Launched in 1994 in Cincinnati, the Window Genie franchise journey began in 1998. There are now roughly 130 locations in 30 states across the country. These businesses focus on residential cleaning services, making up about 80 percent of their jobs.
Franchisees are required to have a minimum net worth of $150,000 and liquid assets of $75,000 to qualify and can expect a total startup investment between $104,500 and $190,000. Part of the startup process for a Window Genie franchise is the acquisition of a work truck. This truck is a specific model wrapped with the company's branding, and if not purchased locally, can be financed at a cost of roughly $400 per month.
Window Genie provides support to its franchisees through training videos, marketing programs, and protected territories.
How Does a Window Genie Franchise Compare to Fish Window Cleaning?
Fish Window Cleaning, started by Mike Merrick in the late 1970s, benefits from more than 40 years of experience in business, and more than half of that experience comes in building the world's largest window cleaning franchise. With more than 275 locations across the nation, Fish Window Cleaning also provides protected territories to ensure other locations will not infringe on your business.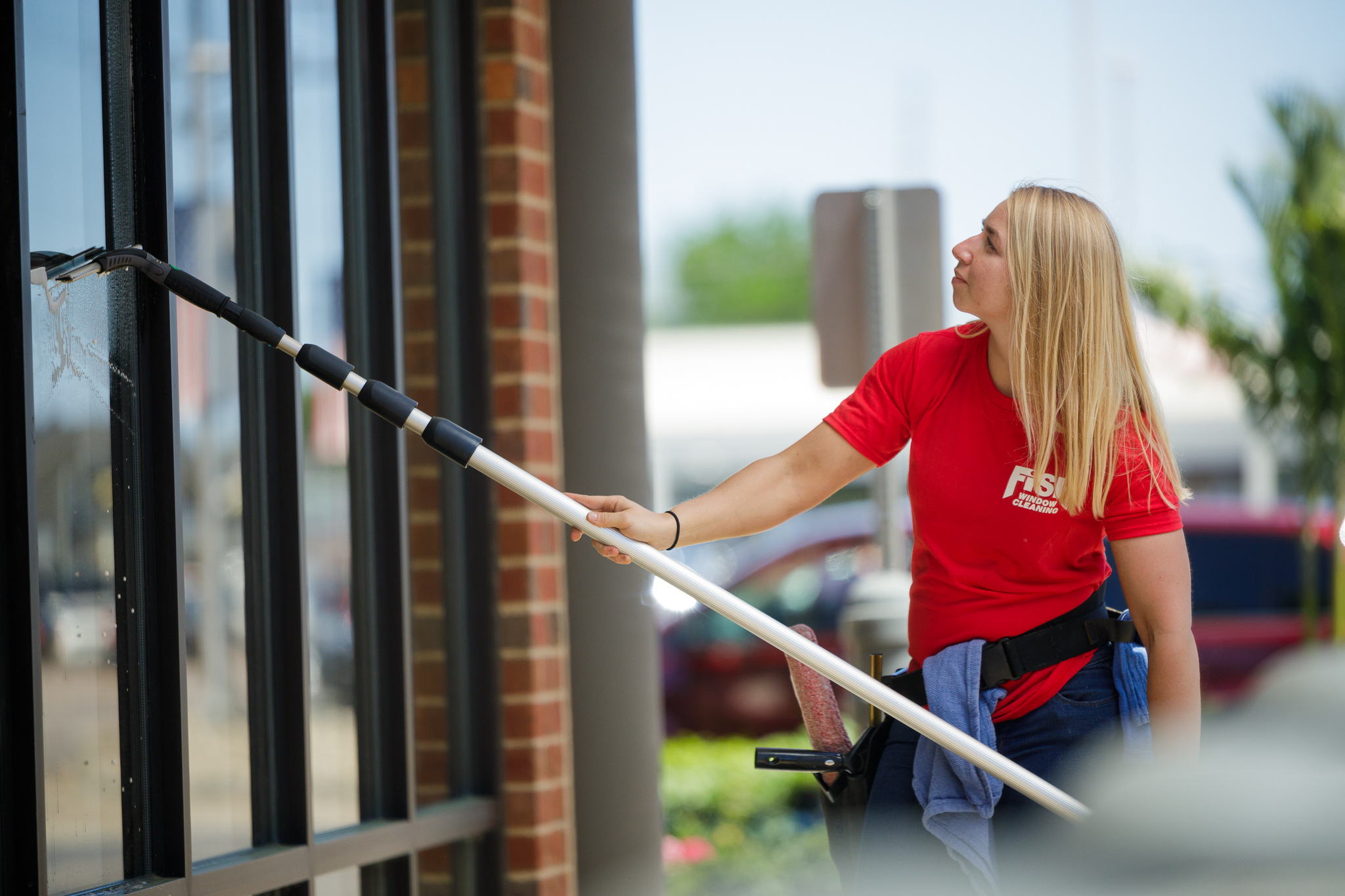 The FISH franchise model puts more emphasis on commercial business than the Window Genie franchise model. Its business is divided between 20% homes and 80% low-rise commercial window cleanings and includes other services such as cleaning gutters or light fixtures. Fish Window Cleaning also offers environmentally friendly cleaning services, leading the industry in the use of water-fed poles.
FISH franchisees enjoy the no nights, no weekends, no holidays schedule in addition to industry-leading training and support. Even though the FISH franchise system is still steadily growing, it continues to emphasize that support by ensuring that the Home Office in St. Louis is equipped with a large franchise support team. With more than two dozen support employees, franchisees are in good hands with someone ready to help. That availability allows for classroom and on-the-job training, location selection assistance for your office space, job bidding and estimate assistance, a platform to help recruit quality employees, marketing support, and more.
That ability to create a new standard of personal and professional fulfillment is the result of a smaller total investment, ranging between $88,300 and $152,600 depending on territory size and location.
Start Your Next Journey with FISH
No matter your experience in the window cleaning industry, Fish Window Cleaning will help to ensure that business-savvy and motivated entrepreneurs are in the best position to succeed as franchisees. With built-in brand recognition and a team dedicated to supporting your business from the startup phase to the years after, you will have all the tools needed to become the go-to window cleaning option in your community.
To learn more about the franchising opportunities with
Fish Window Cleaning
, visit our website and request more information today.