Pressure Washing Services
Fish Window Cleaning - Los Angeles South Bay
South Bay's #1 Window Cleaning Company!
Call for a FREE, on-site estimate:
(310) 973-3474
Is Your Home's Exterior Collecting Dirt? Does Your Side Yard Get Moldy?
If you live in the South Bay, the answer is usually 'Yes'.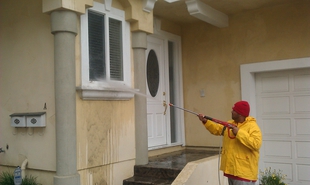 The moist ocean air and "daily breeze" blow dirt and debris onto your windows, screens, and home and then it dries. Narrow side yards and shaded back yards prevent moisture from drying, enabling green and black mold and mildew to grow rather quickly.
Though unsightly and potentially unhealthy, these common occurrences are generally accepted when you live in the Los Angeles South Bay. But now you have a solution...
Have FISH's cross-trained professionals clean your windows after pressure washing.

Residential Pressure Washing
- Exterior Home Washing
- Garage Cleaning
- Driveway Cleaning
- Patio and Deck Cleaning
- Pool Deck Cleaning
Beyond window cleaning, FISH is a full-service pressure washing and exterior cleaning company - a one-stop service for all your cleaning needs. We continually train our staff on the latest techniques and environmentally friendly solutions to safely and effectively pressure wash all areas of your home.

Regularly Scheduled Cleanings are Important.

When dirt and mold builds up, it becomes tougher to clean and begins to affect the underlying surfaces. To properly clean, protect and maintain your home, FISH recommends cleaning your home's exterior, decks, and yard every 3 to 6 months - depending on your proximity to the ocean and how shady your side and back yards are.
Hard Scape Restoration
Fish Window Cleaning professionals can remove grease, tire marks, rust,
efflorescence
, and battery stains from concrete and other hard surfaces. We proudly use F9 Restoration bio-degradable, non-toxic chemicals to remove the toughest stains (note: some stains are so deep in the concrete that they cannot be totally removed). Call us for a free estimate.
FISH is an expert in creating maintenance schedules to meet your home's needs.


Click or Call 310-973-3474 to Pressure Washing Your Home TODAY!
---
In the South Bay, Businesses Get Dirty Too!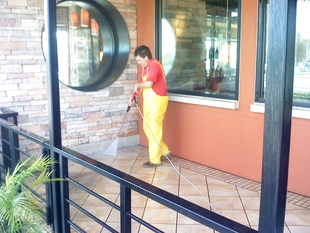 Your company's image is important and customers recognize and migrate towards clean, well-kept restaurants, stores and businesses. Could your company use some Sparkle?
Make Your Image Sparkle, Contact FISH Today!

Your windows, awnings, and signs are usually the first things customers see, but they also notice how your parking lot, sidewalk and building looks too. Your image consists of the 'total package' and FISH cleans it all for you!
Commercial Pressure Washing
- Store Front Cleaning
- Sidewalk Cleaning
- Parking Lot Cleaning
- Awnings & Sign Cleaning
- Gum Removal
- Building Cleaning
Combine Services to Save Time and Money.

FISH cleaners are cross-trained to safely and effectively clean each area during the same visit - saving you time and money.
Businesses set up regular maintenance cleanings for windows and awnings, and schedule less-frequent cleanings to pressure wash their parking lots, sidewalks and buildings (every 3 to 6 months).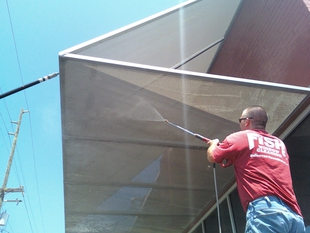 Professional Service, Considerate Schedule.

Your business is important. FISH performs larger, messy pressure washing and clean-up services before you open or after you close to minimize the impact on your employees and customers.
We customize maintenance plans to meet your schedule, your budget and your needs.

Is your Company Sign dirty?
Check out our Sign Cleaning Services - we clean them too!
Click or Call 310-973-3474, We'll Make Your Image Sparkle!