Gutter Cleaning Services
Fish Window Cleaning - Los Angeles South Bay
South Bay's #1 Window and Gutter Cleaning Company!

Call for a FREE, on-site estimate:

(310) 973-3474
The rains are coming...Do you have clogged gutters? Have you checked them lately?

Taking the time to maintain and repair gutters and downspouts can double or even triple the life of your roof drainage systems - saving you time and money.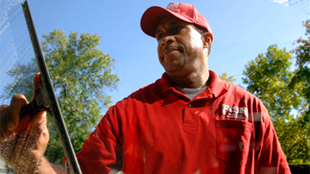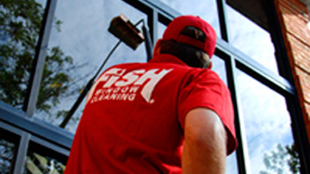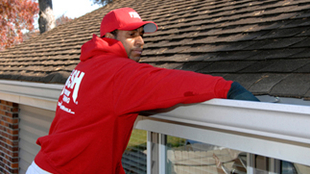 At Fish Window Cleaning, we clean all types of rain gutters, on all types of roofs, at any height. We do a professional job which constitutes more than just scooping out the ground-visible debris...We deep clean your rain gutters to bare metal and flush your downspouts and make sure your gutters are all working properly. During each cleaning, our technicians inspect your gutter system and will inform you of any potential issues.
Prices range from $1.00-$2.00 per linear feet, minimum charge $60. Our pricing is based upon a number of factors, including: amount and type of gutters, number of stories, the roof's pitch and the type of roof.
Call us today at 310-973-3437 for a Free, on-site estimate.
---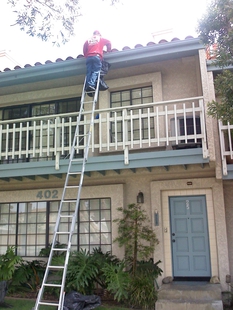 Why is Gutter Cleaning and Maintenance Important?


Gutters that are broken, clogged, or not installed properly may leak and cause damage to your paint.
Clogged gutters, even newly installed ones, can be a water hazard by accumulating debris and dirt from the roof.
Improper drainage causes water to accumulate in certain spots in the gutters, ultimately building up debris and accelerating rust.
Insects and bugs are attracted to unclean gutters, providing excellent nesting and food sources for unwanted pests and mosquitoes.
Gutters can overflow down the back and cause water to seep into the house or create wood rot...costing serious $$$.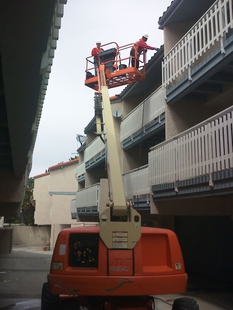 How often should gutters be cleaned?

Gutters and downspouts should be
professionally cleaned about twice a year
. We recommend scheduling a cleaning in March / April just as the rains begin and then again in September / October, just as the leaves begin falling and you start to see your gutters filling up with debris.
Are you worried about us breaking roof tile?

Fish Window Cleaning has cleaned hundreds of gutters over many years. Our technicians are trained to clean most gutters from a ladder or boom lift, and we only walk on your roof if absolutely necessary. If our technicians are required to walk on your roof, we periodically provide advanced training with local roofing companies to enable us to walk on your roof without causing damage.
!! Caution !!
Gutter Cleaning is Dangerous



We recommend that you do not hire a service provider based solely upon their attractive low prices.

Only hire professional companies that are experienced, insured, provide references and employ formal safety practices.
Is Safety more important than price?

Absolutely! Safety is much more important than price. FISH cleans gutters for both residential and commercial locations - we are professional in everything we do.
FISH employees are trained to use specific gutter cleaning devices such as ladders, special hand tools, safety lines and harnesses, and extension supplies. Gutter cleaning is a dangerous task for those who do not have the correct equipment and specialized skills.

What is "Professional", you ask?


Continual Safety Training: Our technicians are continually trained on proper cleaning safety techniques. We have weekly safety meetings and they practice the proper techniques for safely cleaning your gutters.
Standard Business Practices: As a professional company, our employees are background checked and drug tested, trained properly and we carry appropriate levels of general liability insurance and worker's compensation insurance.
Proper equipment: We have invested in the proper equipment (e.g. ladders, lifts, scooping devices, etc.) to perform the services efficiently and safely. We are equipped to complete the job properly, the first time and every time.
Proven Experience and Satisfied Customers: We have cleaned hundreds of gutters, and have a large number of happy customers that recommend us to their friends and neighbors.
Call us today at 310-973-3474 for a Free, on-site estimate.