Chandelier & Light Fixture Cleaning
Fish Window Cleaning - Los Angeles South Bay
South Bay's #1 Window Cleaning Company!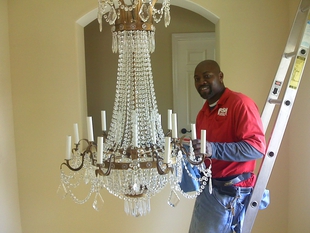 Chandeliers are made to SPARKLE!

Your chandelier is the centerpiece of your home and when it sparkles the whole house sparkles too!
Having a party or event? How does your centerpiece look? If you recently moved, remodeled or made some major repairs, it's time to clean your chandelier.
| | |
| --- | --- |
| Difficult question: | How do I clean my chandelier? |
| Easy Answer: | Call FISH Window Cleaning! |
FISH professionally cleans chandeliers and light fixtures of all models and types, all shapes and sizes, and at all heights and locations in your home or office. Our cleaners are bonded and insured and specialize in cleaning hard-to-reach fixtures...so you don't have to! We replace light bulbs too!
Be sure to ask about our "no hassles, no worries" scheduled maintenance programs. We'll contact you when it's time for service and we'll keep your chandelier looking beautiful!
Call us today at 310-973-3474 for a free, on-site estimate!
---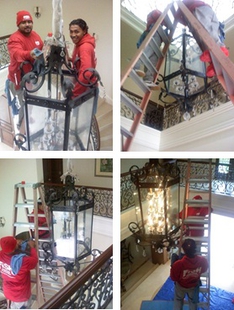 Types of chandeliers
we service:
Crystal Chandeliers
Beaded and Shell Chandeliers
Murano Glass Chandeliers
Mission Chandeliers
Antler Chandeliers
Candle Chandeliers
Blown Glass, Plastic, Metal
Plus many others!
If it lights your home, FISH makes it SPARKLE!

This type of cleaning is very detailed, time-consuming and dangerous! Every chandelier is unique. Therefore we estimate based upon "man hours" to ensure you are charged properly and the costs are mutually agreed to.
Professional Service at a Reasonable Price

Prices range from $50.00-$75.00 per man hour. Our pricing is based upon a number of factors, including: chandelier type, size, material, accessibility, required cleaning process, etc.