Awning Cleaning Services
Fish Window Cleaning - Los Angeles South Bay
South Bay's #1 Window and Awning Cleaning Company!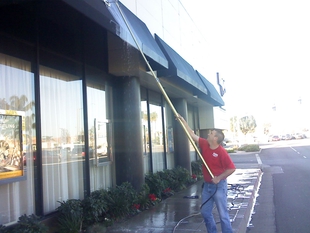 Do Your Awnings Project a Positive, Healthy Image?


Clean, well-kept awnings are important to making a great first impression. Most business owners and home owners are aware of their windows and sills... Unfortunately, awnings are sometimes forgotten.
When was the last time you walked in front of your business or home and looked in? Did you look up too?

That's what your customers and house guests see. And yes, they do notice.
Awnings should be cleaning regularly (every 3 to 6 months) to remove dirt and debris and prevent mold and pollutants from embedding in the material and causing premature deterioration. Also, the longer dirt remains, the more likely the stains will become permanent.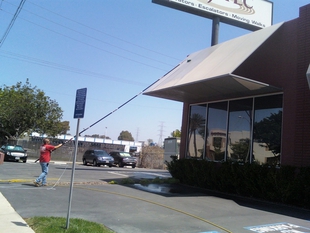 Protect your image and your investment - call FISH!


FISH cleans most types of commercial and residential awnings, backlit awnings, canopies, gazebos, patio coverings, signs and shade structures - in canvas, vinyl, metal and other materials.
We use various techniques to remove dirt, mold, mildew, fungus, bird droppings, etc. that can, over time, cause deterioration and break down your fabric, seams, and bindings, shortening the life of your awnings.
Is your Company Sign dirty?
Check out our Sign Cleaning Services - we clean them too!
Call 310-973-3474 to Clean Your Awnings TODAY!
---








Top 10 Reasons to Clean Your Awnings!



REMOVE embedded soil, grime, and pollution.
REVITALIZE neglected awnings.
REPLACE plasticizers and protectants.
REDUCE fading and color loss.
RESTORE image effectiveness.
INCREASE awning life expectancy.
PROJECT a positive, healthy image.
ENHANCE advertising value and professionalism.
SAVE MONEY replacement costs are what?!?
FEEL GOOD as you make a great first impression!
---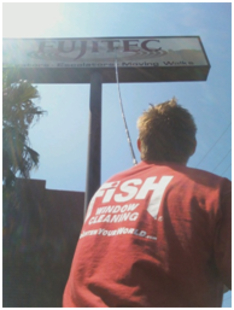 Maintain your image with clean windows, awnings, and signs.

Though cleaning windows is usually more frequent, FISH recommends the following awning cleaning and sign cleaning maintenance schedules:
Commercial Awnings - Schedule cleanings 2 times per year.
High Traffic Commercial Awnings - Schedule cleanings 4 to 8 times per year.
Residential Awnings - Schedule cleanings 2 times per year. Near the ocean, 4 times per year.
Prices range from $1.00-$5.00 per linear foot. Our pricing is based upon a number of factors, including: size, type of material, condition of awning, frequency of schedule, height, accessibility, etc.
We customize maintenance plans to meet your schedule, your budget and your needs.

Call FISH today at 310-973-3474, we'll make your Image Sparkle!