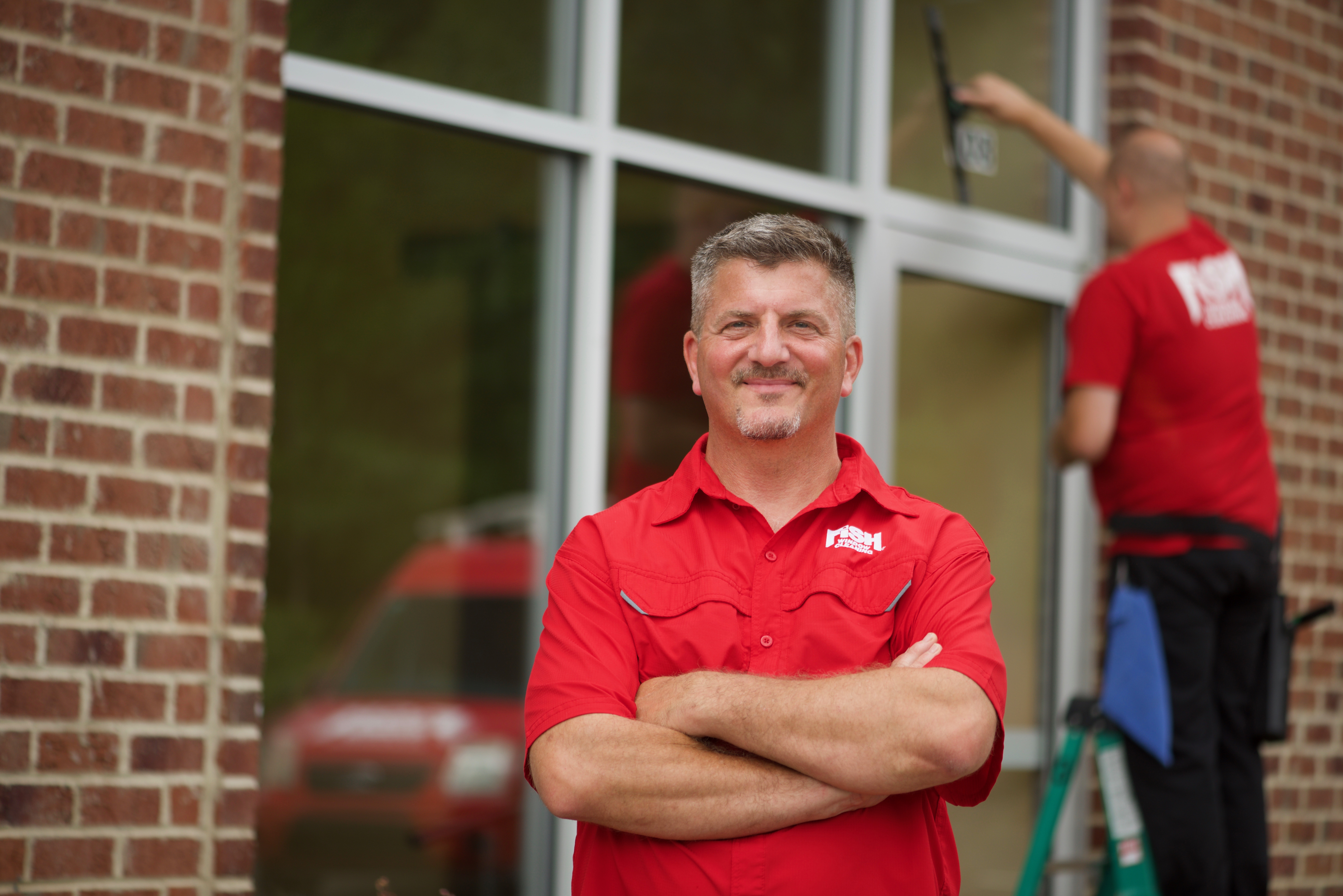 Unless you it's your job, no one really enjoys cleaning windows. Additionally, it is sometimes difficult and dangerous to reach windows without special equipment. This is why window cleaning businesses are always in high demand.
While anyone can own a window cleaning business, not everyone will be successful. Here are things to keep in mind to help your window cleaning business thrive.
Be Professional
The way you and your staff present yourself/themselves is a representation to your client of how you will clean their windows. Insist everyone on your team looks neat and tidy at all times. Jeans with holes or shirts with cut off sleeves do not give the appearance of professionalism.
Consider purchasing a vehicle dedicated to the business and marked with the business name.
No one should smoke while on the job. Cell phones should be put away. No one wants to see the window cleaning crew they've hired taking a smoke break or texting on the phone.
Your clients need to know they can trust you with their property. Clean up after yourself and leave the property the way you found it.
Customer Service
Being prompt and courteous will go a long way with customers. If there will be a delay, be sure to give the client notice. When scheduling jobs, be sure to provide adequate time in-between. Make sure there is time to do the job right the first time, not a rush job trying to get to the next site.
Once a window cleaning job is complete, check with the client to make sure they are satisfied with their windows. If the client finds something wrong or something that was missed, be sure to correct the problem quickly.
Insurance Assurance
Make sure you have liability insurance and share that information with the client. This will help them understand your business is legitimate, and not a fly-by-night company. In the unlikely chance event that you damage something or someone gets injured, for example, from a falling ladder, this will give the customer peace of mind that your insurance will cover any damages.
Spread the Word
Don't forget to market and advertise your business. Typically, window cleaning businesses get new customers through word-of-mouth marketing. So, doing the best job possible might bring you more customers in the future. You should also create social media pages on various platforms such as Facebook and Instagram to connect with people and businesses in your area.
It is also a good idea to create a website for your business so you can be found online when people search for window cleaning services.
Partner with the Pros
One way to get a head start on success in the window cleaning industry is to invest with a franchise. Franchises usually have brand recognition, which creates an immediate level of trust with clients. Buying a franchise means buying into a business with a concept that has been tried and tested. Most franchisors have already ironed out the operating kinks before deciding to franchise their business. You will have a web presence, access to marketing tools, and help with customer leads through a corporate call center.
Fish Window Cleaning has been making homes and businesses shine for more than 40 years. We are here to help you through every step of becoming a franchisee. Not only do we have the proper tools to do the job, but we also have the proper training and marketing assistance that will help launch your business.
For more information, visit
www.fishwindowcleaning.com/franchise
, or call
1-877-707-FISH (3474)
.