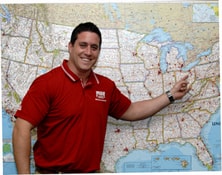 See a full list of zip codes we serve at the bottom of the page.
We're located at:
2228 E. Enterprise Pkwy, Twinsburg OH 44087
Residential Customer Testimonials
"Todd is wonderful! He is so personable and knowledgeable about the services. My neighbor walked by and commented on the shiny windows. After completing my job, he went over to give her an estimate. I love my clean, shiny windows. I will use your company again hands down."
- Josanne H.
"They arrived on time and did a great job."
- Patricia T.
"Good job Fish Window Cleaning."
- David Z.
"I have had Fish Window Cleaning service for several years, not only for windows, but, power washing my home. I have recommended them to many friends and family, who, also have been pleased with the service."
- Elizabeth T.
"Your technician Joe did a FANTASTIC job. He was very respectful and cared about the task ahead of him. Joe climbed through a boat to get to the back inside garage window. He went as far to pick-up and return my 16 week old puppy that went to visit passing dogs. Being a employer myself for 45 years, both myself and manager were very impressed with Joe's job ethics. See you guys next year. Thanks."
- Tom J.
"Great job, thanks."
- Patty S.
"Excellent service."
- Patty S.
"I have a 2 story house, this is the only way to go!"
- Gil K.
"QS did an excellent thorough job. Thanks."
- Deb K.
"They were so friendly and helpful."
- Nancy R.
"Outstanding Job."
- Tony S.
"They were very efficient and did a really good job."
- Rose W.
"Chris is a consummate professional who is excellent at what he does!"
- Johnny W.
"Great service, reasonable price!"
- Lynn M.
"Efficient, respectful, and placed screens back on windows. Refreshing to have clean windows again!"
- Cynthia O.
"Great experience with Frank & Kenna from the Twinsburg, Ohio location. Fast, friendly, and first class. Im planning to use them on future projects and highly recommend them to those looking for the services they offer. Thanks again!"
- Kimble C.
"Chris and Dave cleaned our homes windows. They did a superb job and I will highly recommend to friends and family! I have been using FISH for a few years, these guys are the best!"
- Margo S.
Commercial Customer Testimonials
"Everything was great from the initial booking process with Ann to the day of cleaning. Your team members not only did a great job but were kind, accommodating, and professional as well. Thank you for the excellent service and hospitality!"
- Briana L.
"FISH is the best! They swim in and get it done!"
- Stephen M.
"Great company. Great help."
- Laurene N.
"They do a great job, and are in and out in a timely manner. When inside the business. they are friendly."
- Mike F.