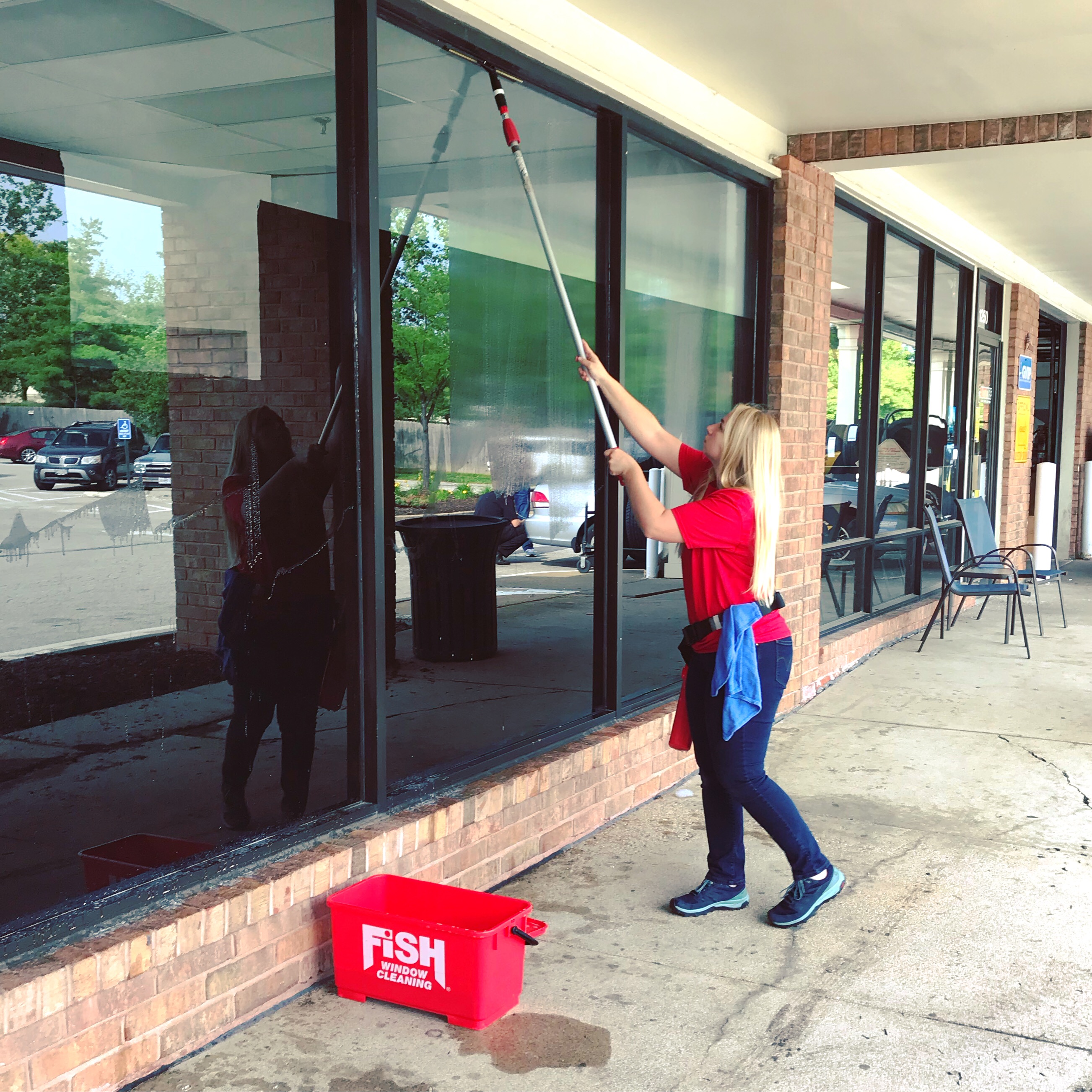 If you're interested in hiring a window washing service, be sure to ask these five questions to guarantee you find a company that fits your needs.
It's amazing what a positive difference window cleaning can make to the look and feel of your business. By simply cleaning the windows, everything feels fresher.
Natural light can come through in all its glory, making the interior of your space feel more welcoming. And from inside, you can see the outdoors more clearly. Passersby see your spotless glass gleaming like a beacon.
Clear, sparkling windows are a reflection of your business. Dirty, hazy windows reduce curb appeal for your guests, clients, and customers. And yet the cleanliness of windows often is one of the most overlooked features of a business.
But cleaning the windows of most commercial buildings, even small ones, is an overwhelming job for an employee to handle, and it takes valuable time away from doing business to handle it in-house regularly. It can be difficult to access most windows, and the average office manager or janitor may not be confident about climbing a ladder and doing work at the top of it, especially the higher they go.
For these and
other reasons
, it is a no-brainer to hire a professional window cleaner to take care of it quickly and safely. But deciding which commercial window cleaning business to hire can be tough.
To narrow the field and pick the right commercial window washing vendor, try asking the following five questions. You'll know by the answers which cleaner is the right one for you.
1. Are You Licensed and Insured?
This can be the difference between pros and amateurs. If the window washer is a glorified handyman who hasn't bothered to get a license or insure the work, look at the next candidate.
If a worker is injured while working on your property, and the window cleaning company doesn't have proper insurance to cover it, your business may end up the subject of a lawsuit. If the window cleaner causes an accident that damages your property, and they aren't insured, good luck getting them to pay to repair it without suing them—and then you still may not be reimbursed.
Some pro commercial window cleaning companies may carry additional certifications, which is always a good sign of professionalism.
2. Do You Have References or Testimonials From Other Clients?
You may not even have to ask the commercial window cleaning company this question directly, with the ready availability of reviews of many businesses on sites such as Google or Facebook. If you come up short online, simply ask the company if they will tell you who some of their previous clients are, so you can reach out to them as references to ask about their experience using the company.
3. How Long Have You Been in Business?
This one goes hand-in-hand with asking for references. Longevity is a sign of being able to satisfy customers to get repeat business and referrals over a long period of time.
4. What Services are Included?
Make sure you are on the same page up front with the window cleaning company about what work is expected as part of your estimate.
Beyond basics such as interior and exterior window cleaning, do they also offer mirror cleaning, ceiling fan cleaning, skylight cleaning, and light fixture cleaning? Do they clean window sills and screens?
You may not want or need these services, but if you do, ask about them and make sure they are part of the package or, if not, how much extra each costs.
5. What Chemicals or Cleaning Agents Will Be Used?
Businesses thrive by having dynamic teams made up of staff members from all walks of life, and each unique member of the team has individual sensitivities and allergies. Ask the commercial window washing company what chemicals and products they use to do the work and whether dust or other airborne contaminants may be present.
This is also an opportunity to survey your team to see what allergies or sensitivities they may have, to compare against what you learn from the window cleaning company before you sign a contract.
Shopping for
commercial window cleaning services
requires a little discretion and judgement to hire the right company. Using these questions, the choice can become crystal clear.
About Fish Window Cleaning®
Fish Window Cleaning was founded in St. Louis in 1978 and is now the largest window cleaning franchise in the country, with over 275 locations nationwide. FISH provides service to more than 200,000 commercial and residential customers nationwide. Free estimates and customized service plans tailored to each customer's needs and budget are just a few offered benefits.
For more information, visit
www.fishwindowcleaning.com
, or call 1-877-707-FISH (3474).