The Best Way to Clean Windows: 3 Tips & When to Hire Help
For many household projects, the decision whether to do it yourself or hire a professional may come up for consideration. Window cleaning is one of those projects.
The best way to clean windows without streaks
There is nothing worse than spending your time cleaning windows on an overcast day only to see all the streaks you unintentionally left behind when the sun shines through. Here are some window cleaning tips to help you make your best effort for streak-free windows:

Prepare your surface
For interior windows, remove blinds and curtains and any dust or cobwebs. Place a large towel or bed sheet beneath the window to catch any drips or spills.
For exterior windows, there will likely be more stubborn dirt to address so a good scrubbing cloth or sponge may be necessary. (For example, if you have hard water stains, you might need some additional work.)

Prepare your cleaning solution
There are two options for a homemade cleaning solution.
For a vinegar and water solution, mix 1/2 cup of vinegar with 4 cups of warm water and transfer into a spray bottle. For a soap and water option, use 1 tablespoon of liquid dish soap with 1 gallon of hot water. Both options work equally well.

Wipe in an S-shape
Streak-free windows are more about how you apply the cleaning solution. For interior windows, use a sponge, microfiber, or other lint-free cloth. Wipe windows in an S-shape and dry with another lint-free cloth.
For exterior windows, use a mop and squeegee in an S-shape motion. Use a separate lint-free cloth to dry any areas the squeegee did not completely dry.
Why should I hire a professional window cleaning company?
Window cleaning can be a big job, which is why it's a great idea to consider a professional. Here are a few reasons you should think about as you weigh your options.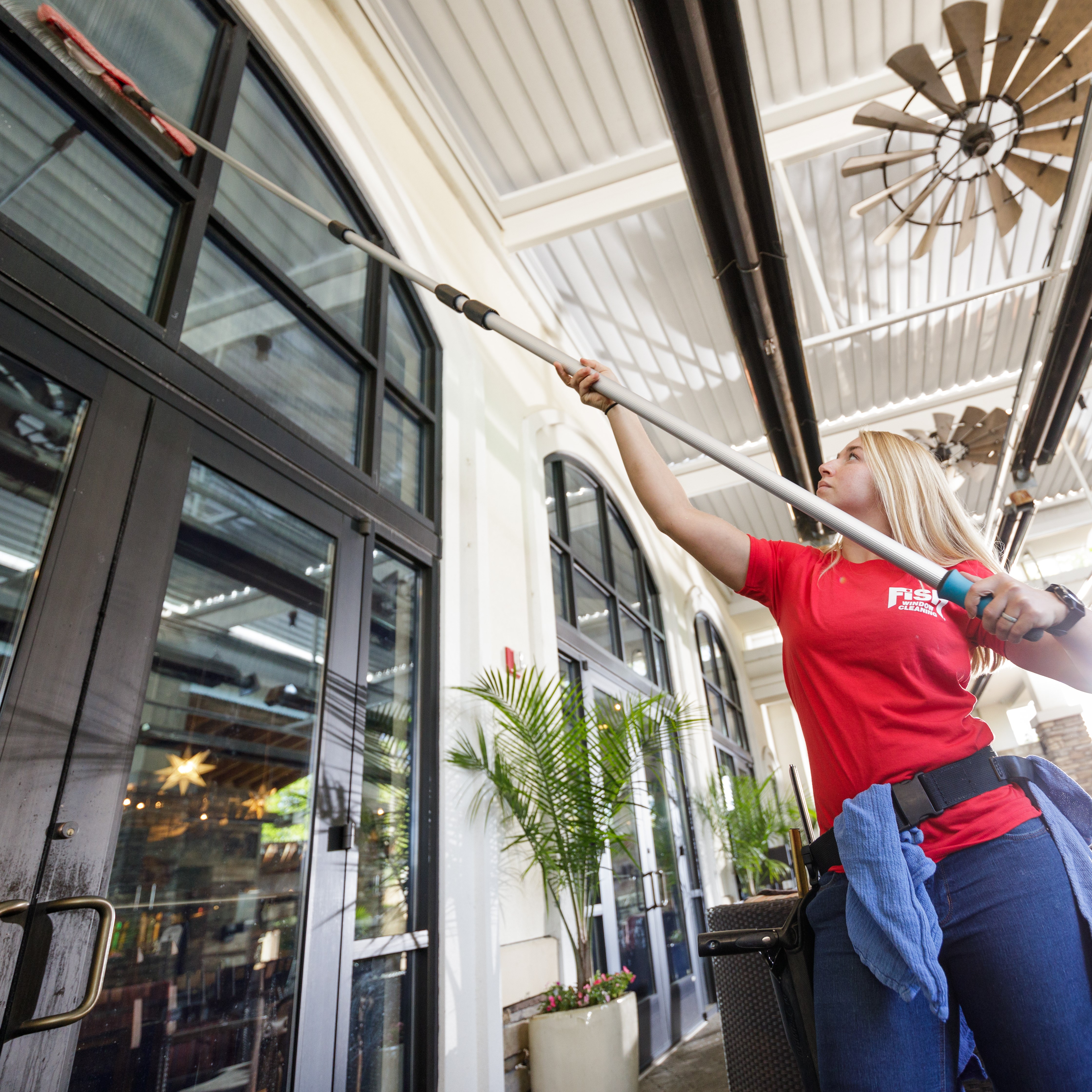 Safety.
You may need a ladder to access hard-to-reach windows in a safe and sturdy way so you can give them a good scrub. You don't want to be over-reaching from your tiptoes because the ladder is not long enough, or you don't have equipment that can reach certain places. This DIY project is not worth a fall.


Convenience. Window cleaning is a chore that has to be done. If you want it done well, and in half the time it would take you to do it, hire a professional service. Spend your time on the chores you can do more easily and conveniently, and delegate the rest to the professionals.


Quality. Professional window cleaning companies know they have to do an exceptional job to maintain their business, so they are experts in the craft. They also notice when windows need some attention due to damage from loose caulk, bees and birds' nests, bug damage, scratches, etc. If this damage goes unnoticed, it could cost you in other ways if a problem goes unmanaged.


Cost. The attractive part of a DIY project is the money you will save. For windows, the best way to clean windows may also be the most cost-effective when you hire a professional to do it. Considering all the other factors — safety, convenience, and quality — it's worth getting a quote.

What products do professional window cleaning companies use?
Professional cleaners have access to many products for indoor and outdoor cleaning. The fastest-growing area of FISH's business is using water-fed poles to clean glass. Water-fed poles are environmentally friendly and use purified water, without any soap, to clean windows. FISH is an industry leader with water-fed pole technology.

A checklist: Clean windows myself or hire a pro?
Know what the project entails before you start. Some things to think about include:

•

How many windows

do you have to clean?

• Are you cleaning the inside, outside, or both?

• Are any of the windows in hard-to-reach areas that will require ladders or extra equipment (longer-handle brushes, etc.) to reach?

• Does any furniture need to be moved?

• Do any blinds or curtains need to be moved?

How do you want to spend your time? Window cleaning can require half a day, a full day, or even several days to complete. Professional window cleaners will certainly be more efficient than you will be, so is your time better spent doing something else?
Get a free estimate
. It's helpful to know what you would be paying for a professional window cleaning service, whether you use them this time or not. Be sure to ask the company the following:
• Do you have to sign a contract?
• What is the process for cleaning up?
• Is the company insured?
• Are sills and screens included?
Fish Window Cleaning
FISH provides service to more than 200,000 commercial and residential customers nationwide. They offer free estimates and customized plans tailored to each customer's needs and budget. For more information, visit
www.fishwindowcleaning.com
, or call 1-877-707-FISH (3474).