Call today for a free on-site estimate: 520-798-FISH (3474)


Welcome to Fish Window Cleaning! We have been serving Tucson, Catalina Foothills, Drexel Heights, Oro Valley, Marana, Vail, Sahuarita and Green Valley since 2005!


We help maintain the appearance of your home or business so it always looks its best!


Windows get dirty because dust, tree pollen, exhaust, fingerprints, aerosols, and other particles settle on your
windows.
It is important to use a professional window cleaning company because maintaining your windows on regular basis protects your glass. We can clean all types of interior and exterior windows without leaving streaks or spots.

Free on-site estimates for all of our services are available!

Call us today or click here to complete an Estimate Form!
Please note: As long as we can easily see around your home or place of business, it is not necessary for you to be present for exterior service estimates.

---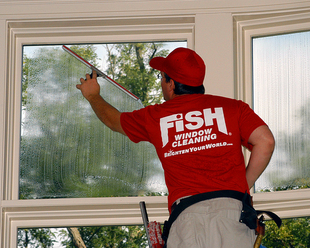 Our Services


Residential window cleaning
Commercial window cleaning
Pressure washing
Chandelier cleaning
Ceiling fan cleaning
Mirror cleaning
Construction clean-up
We use environmentally-safe, biodegradable cleaning products to ensure your safety, as well as our team's safety. The equipment we use is dependent on the job but most jobs are cleaned by hand with a soft mop and squeegee. We protect your home by wearing fresh shoe covers and using absorbent cloth pads to protect all types of flooring. We even offer discounts for cleaning scheduled more than 2 times per year.
Learn more about our Residential Services




Your Business
If you are looking for a way to enhance the appearance of your business, look no further! Whether your windows need to be cleaned weekly or annually, we can tailor a program to your specific needs, schedule, and budget. We work quickly and quietly so we don't disturb your customers or employees. Our cleaning team is licensed, bonded, and insured so when you choose FISH, you have nothing to worry about!
Learn more about our Commercial Services




No contract is required and we 100% guarantee your satisfaction!
If something isn't right, we'll make it right!

---
---
We serve the following zip codes:
85750, 85749, 85748, 85747, 85746, 85730, 85721, 85719, 85718, 85716, 85715, 85714, 85713, 85712, 85711, 85710, 85707, 85706, 85705, 85701, 85629, 85614

We accept cash, checks, and all major credit cards.