Squeegee Squad vs. Fish Window Cleaning: How They Compare
There are many window cleaning companies in the market, and choosing one may seem like a fairly straightforward task: How much does it cost, and when can you do the job? Like most things in life, not all window cleaning companies provide the same services or even promote the same benefits of being a customer.
A look at two companies — Squeegee Squad and Fish Window Cleaning — provides an example of the similarities and differences in a similarly marketed service.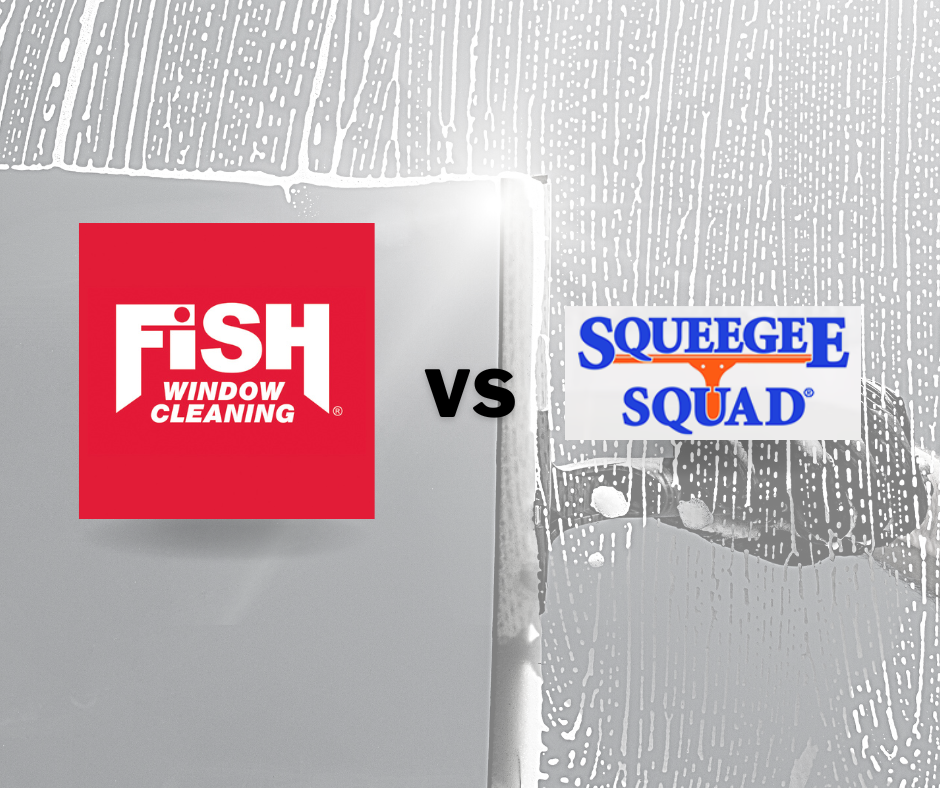 Evaluating the similarities
Both
Squeegee Squad
and
Fish Window Cleaning
offer interior and exterior cleaning services for residential and commercial properties and provide free estimates. In this comparison, both companies also offer a gutter cleaning service. However, while Fish Window Cleaning focuses primarily on windows, Squeegee Squad leans more towards a property maintenance service.
As there is no trade certification in window cleaning, it is up to the business owner to have the knowledge and best practices to appropriately train their employees. This includes being vigilant with safety standards and ensuring all employees work in a safe manner while on a customer's property.
Adding extra services can definitely be profitable for the business, and the balancing act comes with maintaining high standards in offering all services. In this example, each company chose to add services to its business model in different ways.
Commercial service differences
In addition to windows, Fish Window Cleaning offers cleaning services for mirrors, ceiling fans, skylights, and chandeliers (the same as their residential customers.) For FISH, commercial work is 80% of their business, and they only focus on one- to three-story commercial buildings. FISH provides reliable, year-round scheduling, customized cleaning programs, and various billing options for commercial customers.
Squeegee Squad will work on any size of commercial property, including high-rise buildings. Their add-on services include pressure washing, roof and solar panel cleaning, and commercial building restoration.
Residential service differences
For residential customers, Fish Window Cleaning also offers cleaning services for mirrors, ceiling fans, skylights, solar panels, and chandeliers, as well as storm windows, outdoor light fixtures, sill and screen cleaning, and awnings. FISH provides uniformed cleaners who have undergone background checks as an assurance to homeowners when someone is entering their home.
The additional services Squeegee Squad offers residential customers include pressure washing, soft washing, roof and solar panel cleaning, ice dam removal, snow plowing, and holiday lighting. These services venture more into the property maintenance sector and also increase the requirement for employees to be well-versed in operations. Cleaning windows and running a snowplow are certainly differently-skilled tasks, which is why they are not commonly offered by the same company.
A note about add-on services
Add-on services are a great way to increase the value of the franchise, but stretching too far can be a disadvantage. FISH keeps add-on services more simplified so that the training required to perform quality work is in line with the business model.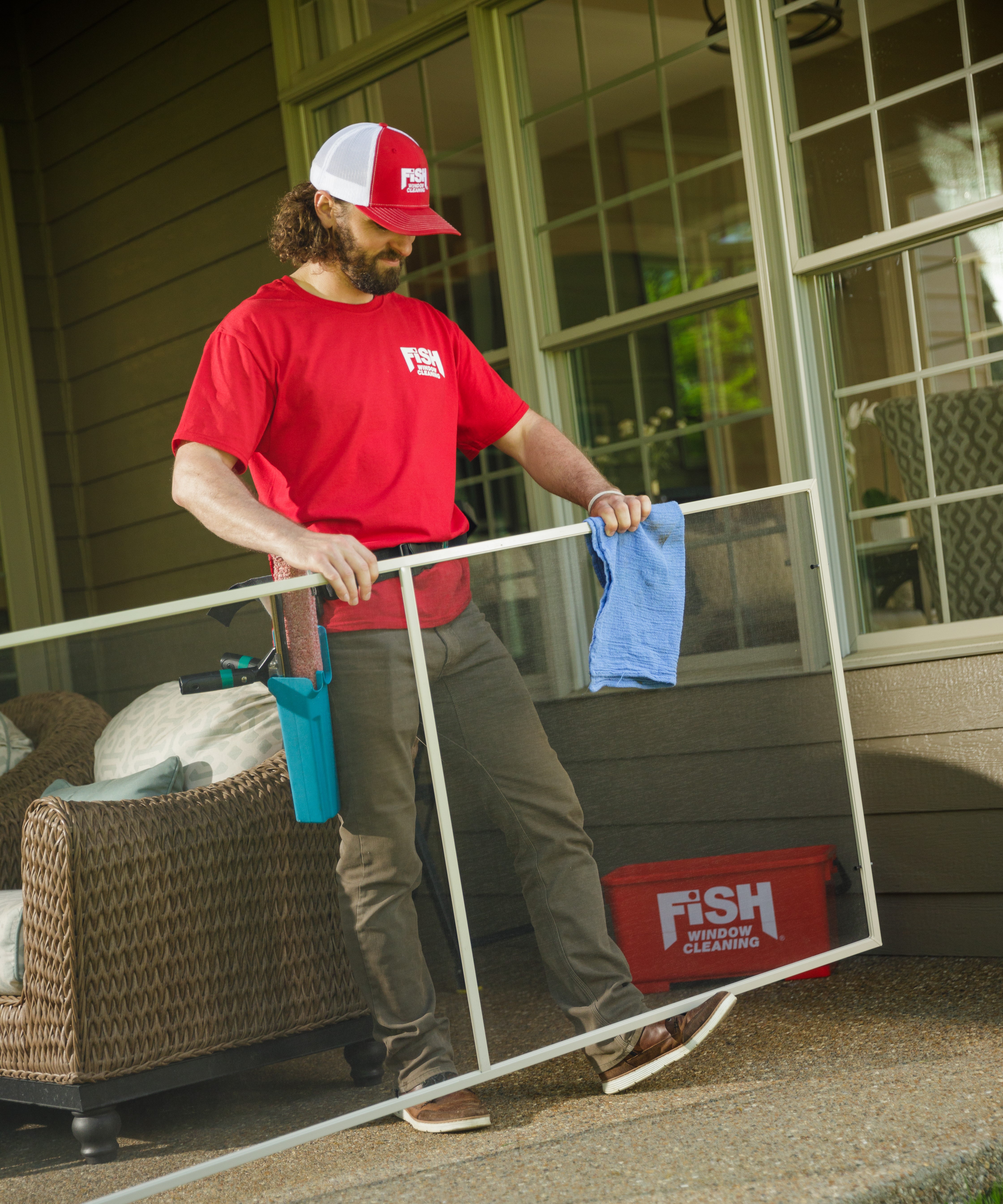 Squeegee Squad has services such as solar panel cleaning, pressure washing, and ice dam removal that increase the liability of damage to the building and can be more complex to manage effectively. Further, a restoration service is often offered separately because of the requirements to guard against contaminants.
As you evaluate franchise options, keep in mind that the quality of service you offer in any area will reflect on the entire service offering of your business.
Evaluating the experience of the company
Windows are an essential feature of your home or business, and replacing them can be an expensive project. Knowing how to protect that investment, including the framing and sills, is something you should expect from your window cleaning company.
Fish Window Cleaning has more than 40 years of experience in the window cleaning business. Since franchising in 1998, they have 277 franchises in 45 states nationwide. They are a reliable, bondable, and insured company that has been recognized by numerous franchise organizations. For example, they are a Top Franchise for 2022 by
Franchise Business Review
, ranking No. 31 overall and No. 6 in large franchises.
Entrepreneur magazine
also ranked them at #295 in their 2022 list, up from being ranked #330 in 2021. Today, FISH is the world's largest window cleaning company.
Squeegee Squad is not ranked on the franchise lists but they are also a much younger company. They began franchising in 2005 and have 55 locations across 22 states.
Re-investing in the core services
Fish Window Cleaning is a company that chooses to expand by innovating with its core service of window cleaning as an asset to its customer service focus. FISH has invested in their business to offer environmentally friendly cleaning services. They are the industry leader in the use of water-fed poles for window cleaning. FISH's mission is to "be clearly seen as the best and most respected window cleaning company in the world."
Contact Fish Window Cleaning
When you need a responsible and reliable window cleaning service, contact Fish Window Cleaning for a
free estimate
.