How to Clean a Ceiling Fan: Plenty of Tips & How a Pro Can Help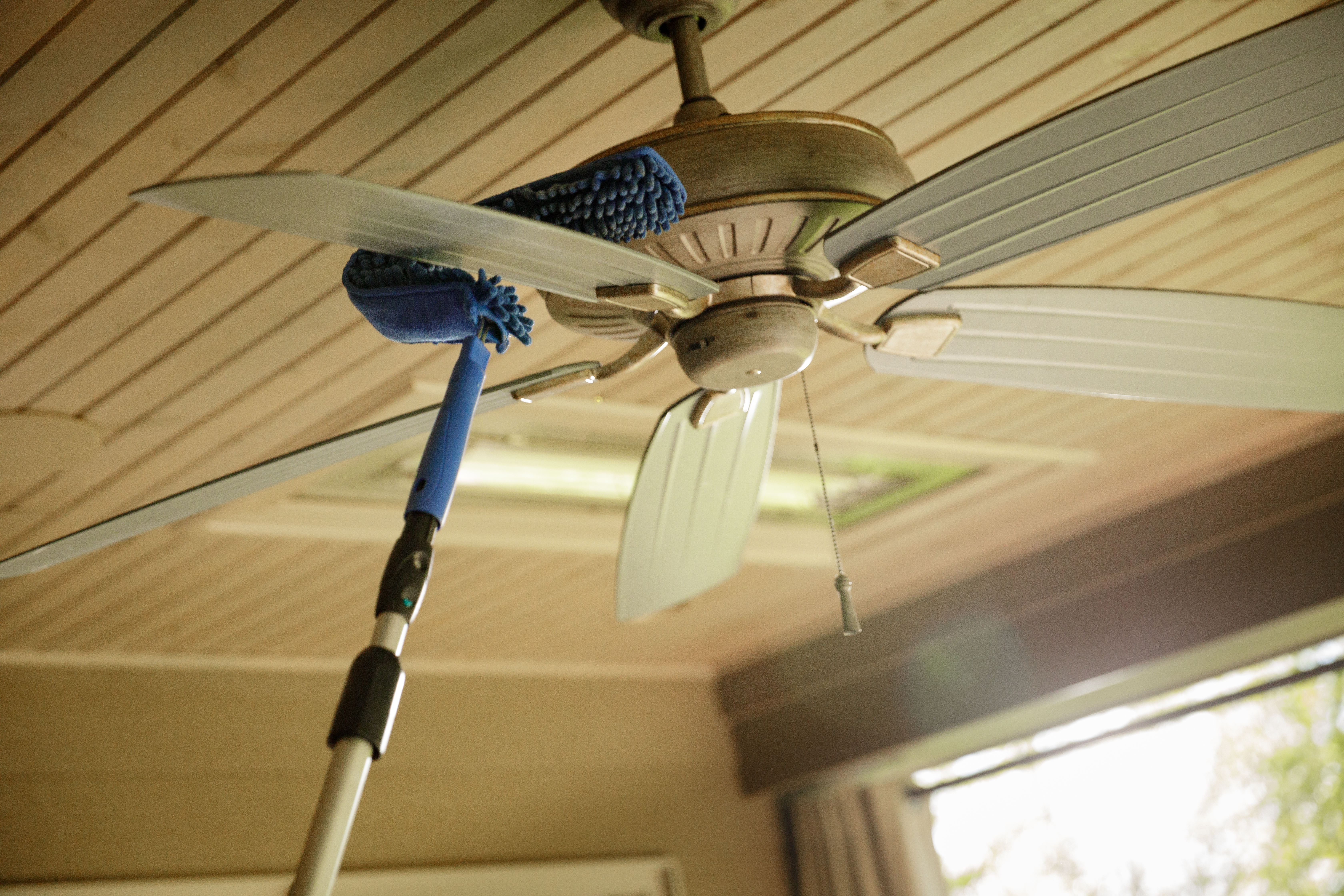 Ceiling fans have been a fixture in American homes since the 1920s. They are one of the few home accessories to have survived the test of time, and they have gained traction as an energy-saving appliance. The Department of Energy notes that if you use air conditioning, a ceiling fan will allow you to raise the thermostat setting to about 4°F with no reduction in comfort. In moderately hot weather, ceiling fans may allow you to avoid using your air conditioner altogether.
Keeping your ceiling fan clean is key to enjoying the value it provides to your home. At Fish Window Cleaning, we offer ceiling fan cleaning as part of our service package. Here are our best tips to make cleaning easier.

Tools you could need
As with any cleaning project, it's helpful to have all the tools you need to do the job prepared in advance. For ceiling fan cleaning, here is what we recommend:
- Drop cloth
- Step ladder
- Pillowcase
- Microfiber cloth
- Baby wipes
- Cleaning spray (either a grease-fighting commercial cleaner or make your own solution with 50-50 warm water and white vinegar)
- Long-handled duster
- Can of compressed air (like you would use to clean a computer keypad)
- Screwdriver (to remove fan blades if necessary)

How to clean a ceiling fan: 9 steps
Now you're ready to tackle this project! Here are our best tips on how to make that ceiling fan sparkle:
Shut off the fan and the light switch.
Place a drop cloth beneath the fan to capture any dust and debris.
If using a stepladder, position it on a smooth, secure surface. A hard floor surface is best. Remove any rugs that could cause the ladder to lose traction. Do not put the stepladder on the drop cloth.
If the ceiling fan has globes or a glass shade, remove them first and place them in a sink of warm water and grease-fighting detergent.
At the blades, place a pillowcase over the blade and wipe the top, bottom and sides of the blade. The pillowcase will collect the dust.
If the blades are greasy, you can either wipe the blades with a baby wipe or spray your cleaning solution on a microfiber cloth and then wipe the blade. Avoid spraying directly on the blades to prevent liquid from getting into the motor housing. Continue with all blades.
Use a can of compressed air to remove dust and dirt that is inside the motor housing.
Wipe the motor housing, pull chain and lightbulbs with a baby wipe or damp cloth.
Return to the sink and wash your globes and glass shade. Dry them with the microfiber cloth and re-install them on the ceiling fan.

A note about removing blades
If you cannot adequately clean the ceiling fan with the blades attached, remove the blades with a screwdriver and wash them in the sink as you did with the globes. This can be the case for a kitchen ceiling fan that is more susceptible to grease, or an outdoor fan that picks up more debris. Keep track of the screws so you can easily re-attach the blades.

How to clean a ceiling fan that you cannot easily reach
Some ceiling fans are located on vaulted ceilings and require a different way to be cleaned. This tip also works if you don't have a stepladder or are uncomfortable using one while working overhead.
For dusting only, use a long-handled duster with a static dusting head to reach the ceiling fan. This tool comes in different lengths so if you're shopping for one, know how high you need the duster to reach. Also, you can look for a duster with a brush that fits around the fan blade – almost like a circle. This will make it easier to do the blade cleaning.
We do not recommend using a liquid cleaner for hard-to-reach ceiling fans. The job becomes too messy, and liquid can easily end up in the motor housing which can cause problems with the function of your ceiling fan.

A note about how to clean a ceiling fan that is outside
An outdoor ceiling fan will likely pick up debris that can stick to the blades, so use your cleaning solution from the beginning. Use a baby wipe or spray your solution onto a microfiber cloth and then wipe each blade (top, bottom, and sides). If you need to dismantle the blades for a more thorough cleaning, you can wash them in the warm, soapy water in the sink and then dry them completely before re-attaching them.

Extra things you can do during the ceiling fan cleaning
Here are two more tips you may wish to consider as you're embarking on this cleaning project:
- Change the bulbs. If it's going to be a while before you're up on the ladder cleaning the ceiling fan again, you might as well be proactive and change the bulbs.
- Change the fan direction. In warm weather, the ceiling fan should run counter-clockwise. This causes the air to move down and creates a cooling effect. In cooler weather, the ceiling fan should run clockwise to create an updraft. This pulls the cool air up allowing more warm air to circulate in your home.

How a pro can help
With these tips on how to clean a ceiling fan, you may not need a professional service, but, you might
want
to use one anyway. Here are three reasons why it's an easy decision to have the pros, like Fish Window Cleaning, tackle your ceiling fans:
- Incorporates into a regular schedule. Including ceiling fan cleaning in your window cleaning schedule is an easy way to get this chore accomplished.
- Include other accessories. Compile a list of hard-to-clean accessories at your home and ask the professional service to quote on a regular cleaning schedule. This includes chandeliers, awnings, gutters, skylights, etc. Save yourself from having to work at heights or in areas that are hard to access.
- For older homeowners. As people age, they may prefer to stay in their homes as long as possible and using professional services – such as window and ceiling fan cleaning – can make it easier.

Hire Fish Window Cleaning today
For more than 40 years, Fish Window Cleaning has been making America's homes shine, not only with window cleaning but also with our
light fixture cleaning services
. While homeowners know how to clean a ceiling fan and other accessories that are difficult to access, we make life a little easier by providing that service as part of a regular schedule. Fish Window Cleaning offers cleaning for light fixtures, ceiling fans, mirrors, chandeliers and other interior and exterior home accessories.
See our complete
list of services
and ask us for a
free estimate
to lessen your house cleaning chores. You might be surprised to find how easy it can be to have the more difficult areas of your home cleaned by us than the time it takes for you to do them yourself.