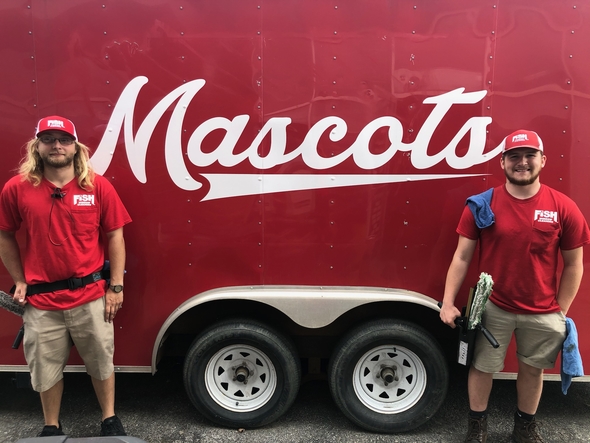 Rob Stanley is more used to providing support than receiving it.
The owner of a St. Louis-area bar and restaurant, Mascot's, Stanley has grown comfortable in his role in the neighborhood.
"For people in our industry, you see so many different people and hear stories from the community," Stanley said. "These customers become something like family, and they come in here to be heard. We're glad to be part of this community and glad to be able to help."
From holding events to support first responders to raising awareness for various other causes (including a recent event highlighting suicide prevention), Stanley and the staff at Mascot's have ingrained themselves in the community around St. Louis.
Because of those efforts, Mascot's was the recipient of a free cleaning thanks to Fish Window Cleaning's effort to highlight deserving businesses, building off of last month's Random Act of Kindness Day.
"This was the least we could do for Mascot's," said Fish Window Cleaning's John English. "They've done such a great job supporting their community through all their charitable work and events. We wanted Rob and his staff to know that the community appreciates their efforts and can support them right back."
Stanley said that support was clear after the surprise visit,
which was also covered by local media outlets.
"It's really cool to have that support from another local company," said Stanley. "We try to work with all of our local businesses because it's so important for the community to support each other, especially after the past year."
Mascot's, like so many other bars and restaurants around the nation, was thrust into uncertainty when COVID-19 upended life and business almost immediately.
"It was overwhelming when it all started happening," Stanley remembered. "We're still trying to grow and get our name out, and it was scary because we might lose everything. But we've been really fortunate to have steady business since we reopened our doors. Our employees and our customers are like family, and we're so happy to provide for them."
But this time, now the recipient of some assistance and recognition, Mascot's could sit back and admire another business at work.
"They did a great job, and they always do," Stanley said of Fish Window Cleaning. "We have a ton of windows, and I love to keep the blinds up and the sunlight streaming. They do the job, and it's almost like they weren't there, you know, aside from the camera crews. This has been great."