Interior & Exterior Window Cleaning
Window Sill Cleaning
Window Screen Cleaning
Gutter Cleaning
Awning Cleaning
Chandelier Cleaning
Skylight Cleaning
Mirror Cleaning
As a nationwide window cleaning company, you can trust us to take care of your home while we clean. We are licensed, bonded, and insured for your protection and the protection of our cleaners. We move carefully around your possessions and leave your home looking exactly the way it did before we came - except for your now sparkling windows!
We guarantee your experience with us will be 100% positive! If something is not right, we'll make it right. Your satisfaction is our priority!
Call (770) 517-0422 for a free on-site estimate today!
---
Your Business

As a business owner, your time is so important. You have more important tasks than trying to make sure your windows and glass doors do not have fingerprints or smudges.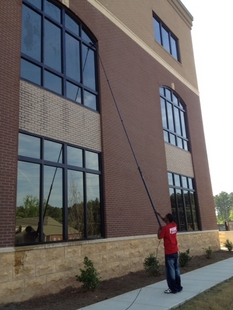 Let FISH worry about those things for you! We'll maintain the appearance of your business all year long. Not only can we make your windows fingerprint-free and beautiful, we can also remove tape, holiday window paint, clean your awnings, and much more!
Why choose FISH for your business?
We are a professional company that understands the needs of businesses.
We customize all of our programs to meet your budget and schedule.
We are reliable.
We are licensed, bonded, and insured.
We wear uniforms.
No contracts are required.
We guarantee your satisfaction.
"I have had bad experiences at other companies whose window cleaners never showed up when they were supposed to. Fish [Window Cleaning] is always here on time and does a terrific job."
Call us at (770) 517-0422 - We'll make your business sparkle!
---
We serve the following zip codes: 30068, 30067, 30066, 30062, 30060, 30189, 30188, 30144, 30115, 30114
We accept cash, checks, and all major credit cards for your convenience!