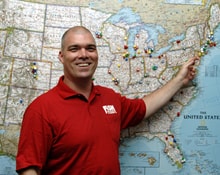 We're located at:
72 Benson Ave., Hamilton NJ 08610
Mailing Address: PO Box 285, Morrisville PA 08610
Residential Customer Testimonials
"Tech was friendly and professional and on time!"
- D. S.
"Jared and Peter did a great job. Very professional and thorough; they went beyond what was required. I would recommend FISH (actually have already done so to neighbors) and plan to use FISH again."
- Lou & Jacqui H.
"Exceeding all my expectations. Great job. Made the whole house look cleaner."
- Andrew H.
"Staff was courteous, quick and efficient."
- Sylvia L.
"Jake and Stan were excellent! You should be happy to have them. They were polite, neat and did a great job. I will recommend FISH to everyone I know!"
- David B.
"A++++"
- Sara M.
"Great service provided by a great team!"
- Monica O.
"A great job, as always!"
- Jackie P.
"I was very impressed by the quality of their work. I would definitely recommend this company. They quickly came out and give me an estimate, and scheduled the work. They were prompt, courteous and did an excellent job."
- Linda A.
"I have been using Fish Window Cleaning for years. They always provide a professional service and their workers are courteous and thorough. I would highly recommend them!"
- Patti B.
"The cleaner was very nice and professional. The windows came out very clean, he did a great job."
- Ivette L.
"Very professional & friendly."
- Mercedes R.
"Sal was the utmost professional! Sal went above and beyond! My home looks like a brand new house! Thank you thank you thank you!"
- Susan D.
"Jared was great!"
- Andrea A.
"Second time we have had Fish Window Cleaning to our home and it's the second time that they have hit the ball out of the park! Super job. Great price. Would recommend them to anyone that asked."
- Jay S.
"My windows are sparkling!"
- Stacy M.
"Sal did a great, very professional job from the time he came to give us an estimate for the power washing of our house and vinyl fence to the completion of the job itself. He arrived as scheduled for both giving the estimate and doing the job itself, and we were more than pleased with the quality of his work. He's a very personable young man and we will be having him take care of cleaning both our gutters and windows. We called him because he came recommended by our neighbor, and we would likewise recommend him without any reservation."
- Carl R.
"All work was done outside and there was no need to come into the house which was greatly appreciated given Covid 19 concerns."
- Lucille R.
"We have used Fish Window cleaning for several year at our home and have always been very happy with their work. They are reliable, professional and do a great job!"
- Jackie P.
"Would highly recommend Fish Window Cleaning. They did a thorough job power washing and cleaning the windows inside and out on our home, which was a long overdue task. They were friendly, professional and considerate. Would definitely use them again."
- Karen H.
"The team was prompt, professional, and did a great job. I'll definitely use Fish again!"
- Linda K.
"My whole experience with Fish Window Cleaning was outstanding. Keith returned my call quickly and came out to give me a estimate. He was on time, very friendly and professional. I scheduled a appointment to have my windows cleaned. Tyler came out and was awesome! He did a fantastic job! My windows look great! Tyler was polite, professional and a hard worker. I have used other window companies in the past but Fish was by far the best! Thank you for providing such great service. I will definitely be calling you again!!"
- Diane K.
"I was very pleased with the job that was done on my windows and the power washing that I had added on with no difficulty at all. The crew was pleasant and professional. Arrived early to do the job and worked diligently through the morning. There were a few minor issues that were left undone but one call to the owner Keith and the crew was back again the next morning to correct those issues. I would definitely use them again."
- Nella H.
Commercial Customer Testimonials
"Great bunch of guys that do a fantastic job!"
- Tim B.
"Great service! I would highly recommend! Thank you."
- Stacey C.
"I also noticed what a great job you are doing. The selection process was left in the hands of Barry, but I'm very glad he went with you. We try to do whatever we can at Merwick to support local businesses as our preferred vendors."
- Joshua J.
"Good Morning Keith, Just wanted to drop you a line of appreciation. As I walked the hallways and spoke to our residents many pointed out what a great job you did with our window washing. It was long overdue and your crew did a great job on sub-acute side."
- Barry F.