Fish is the leading provider of High Level Dusting in the industry.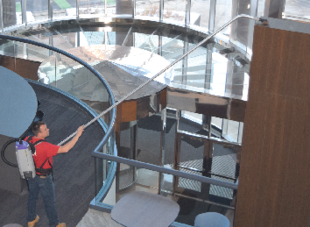 Our high level vacuum and dusting systems allows our technicians the flexibility to reach all heights to clean built up dust, cobwebs and avian excrement settled on hard to reach surfaces and structures.
Benefits of High Level Dusting
• Instantly improves the look and quality of your structure and facility
• Indicates a well maintained and clean premise
• Reduces rodent and insect activity
• Reduces future build up
• Reduces allergens and illness
What we clean
• All sized structures including restaurants, manufacturing plants, warehouses, retail stores and more.
• All applications including ceiling pipework, framework, structural beams, ledges, air conditioning ducts, vents, diffuser grills, light fixtures, ceiling fans, and more.
We clean using the industry best back pack hepa vacuum systems which allows our staff to operate and maintain safety and cleanliness on the ground below. Our team has the experience to clean all sized structures and facilities in a professional and efficient time frame ensuring minimal disruption to your daily operations.
Thank you. Your information was successfully submitted.