Welcome to Fish Window Cleaning! We are your local window cleaning company serving Hernando, Southaven, Olive Branch, Senatobia, Batesville, Lynchburg, Oxford, Sardis, Como, and Coldwater, MS!
Contact us today for a free on-site estimate! (662) 469-4163
Whether you're in the midst of spring cleaning, preparing for the holidays, or enhancing the look of your home or business, let Fish Window Cleaning take this task and make it worry-free! From sunrooms to showrooms, and skylights to storefronts, we do it all.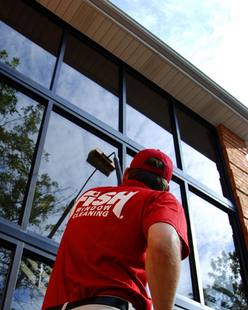 Your Home
We understand how busy you are and that is why we want to help. We know window cleaning is probably not at the top of your to-do list. Between cleaning the kitchen, vacuuming the entire house, dusting, cleaning the kids' rooms, and whatever other chores you may have, when would you have the time to clean your windows? Let Fish Window Cleaning cross window cleaning, chandelier cleaning, mirror cleaning, and more off that to-do list for you! We take care of many of your chores for you quickly and quietly so we don't disturb you or your family. Our team is friendly, professional, and trustworthy. We respect your home and all of your possessions so we take great care while cleaning. Our estimates are always free!

"Their team can be trusted to come into my home without my having to 'put things away'. Their friendliness brightens my day."
Your Business
As the largest window cleaning company in the world, we know that it can sometimes be difficult to be a business owner. You have so many things on your mind that window cleaning has probably fallen out of your priorities. We also know that customers can judge a business by its appearance so let us make the all of the windows in your office, on your sales floor, in your showroom, restaurant, or any other commercial building sparkle! We can even remove tape, window graffiti, or holiday window paint. We can also polish your chandelier and clean your mirrors, ceiling fans, and much more! We are licensed, bonded, and insured so when you choose Fish Window Cleaning, you have one less thing to worry about.
"I would like to take this opportunity to thank your local staff in my area for their amazing professionalism, the quality of work, and customer service that they provide to us!"
Fish Window Cleaning pledges to provide superior service to each and every customer. We are committed to your satisfaction. If something isn't right, we'll make it right.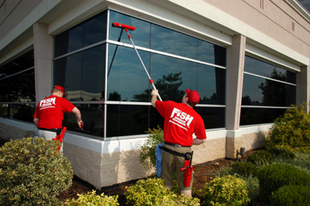 Our Services Include:
Interior and Exterior Window Cleaning
Storm Window Cleaning
Screen Cleaning
Sill Cleaning
Chandelier Cleaning
Light Fixture Cleaning
Skylight Cleaning
Mirror Cleaning
Construction Clean-Up
We serve the following zip codes: 38655, 38637, 38606, 38632, 38673, 38680, 38618, 38658, 38666, 38651, 38668, 38677, 38671, 38641, 38619, 38672, 38654, 38620, 38601
We accept cash, checks, and all major credit cards for your convenience!