Welcome to Fish Window Cleaning Charlotte NC!
We are your local window washing company serving Charlotte, Huntersville, Indian Trail, Matthews, Cornelius, Mint Hill, Davidson, and Pineville.

Contact us today for a FREE on-site estimate!
(704) 494-3474

"Our specialty is in giving you perfectly clean windows, and we are ready to serve your business or home. Our window cleaners are trained to provide the superior customer service you expect when in the workplace or the quiet environment of your home. Window cleaning is our profession. It's not just a job we do, and we treat it that way."
Fast and Friendly
Insured and Bonded
Show Up as Scheduled
Honest and Caring

YOUR BUSINESS
We can help your business look polished and professional with our maintenance programs. You have nothing to worry about when you hire us because our cleaners are licensed, bonded, and insured for your protection. We clean quickly and quietly so we don't disturb your employees or customers. Our cleanings can range from weekly to annually and are customized to meet your needs, schedule, and budget. No job is too big or too small for us!
Click here to learn more about our services for your business.


YOUR HOME

We can clean every type of window in your home. You can trust Fish Window Cleaning in your home because our team is professional, insured, and background checks have been done on all of our employees. We wear clean shoe covers and use cloth pads under your windows to protect your floorings. Along with a mop and squeegee, we use environmentally friendly cleaning products so you won't have to deal with harsh cleaning fumes. When you choose us, we are committed to your satisfaction!
Click here to learn more about our services for your home.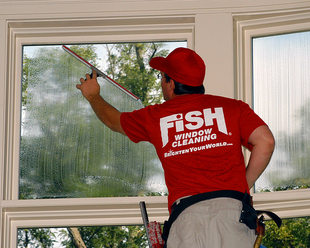 Why have we grown to be the largest window cleaning company in the world?
Hassle free service
We are committed to customer satisfaction
Trained and uniformed professionals
Premier safety program
Customized cleaning schedules
We care
We show up

Serving: 28203, 28207, 28209, 28210, 28211, 28212, 28217, 28226, 28227, 28270, 28273, 28277, 28278, 28105, 28134, 28216, 28036, 28078, 28269, 28208, 28202, 28213, 28205, 28104, 28204, 28031, 28262, 28215, 28206, 28079, 28214
We accept cash, checks, and all major credit cards!