Quick! Make a Great First Impression --
Your customers notice clean windows, but here's the thing... They won't ever tell you that your windows are dirty.

They don't know that dirty windows are the reason your store doesn't seem inviting. They just won't come in. And that's a missed opportunity for you.
And sure, you could try to get your employees to clean the windows. But you've probably tried that. And they don't do a great job. And they grumble the whole time. And it's really not worth risking a mutiny of your best workers.
And you may have hired a window cleaner in the past. And they came on their schedule -- if they showed up at all. And it was hard to get in touch with them.
Of course, you could always do it yourself. But let's face it -- you're busy and window cleaning will just never be at the top of your list. I mean, when was the last time you filled up a bucket and went outside to clean the windows?
FISH WINDOW CLEANING is different.
For more than 15 years we've been cleaning over 1,300 businesses in Arlington, Cambridge, Brookline, Somerville, Watertown, Belmont, Brighton, Allston, and Chestnut Hill. In fact, if we don't clean you, we probably do clean at least one of your neighbors.
Call Ashley in our office:
(781) 646-0405
.
She'll send Mark over to give you a free estimate.
And here's the best part. Mark will work with you to come up with a cleaning schedule that fits your timing and budget.
We're computer scheduled so we come on the schedule that's right for your business.
Whether we are visiting you twice a week or twice a year, you can count on us to show up
.
You sign our invoice every time our cleaner cleans so you'll know we've been there.
We clean during business hours (or, if you're a restaurant, just before you open or during your lull).
Call us today at (781) 646-0405 for a free on-site estimate.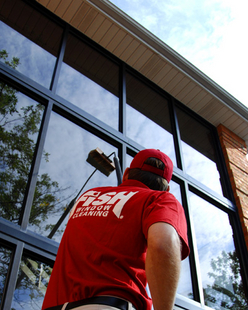 We are a national franchise company made up of locally owned and operated businesses which means you will receive the personal touch. From our custom cleaning programs to detailed invoicing, we've made window cleaning hassle free. And of course we are licensed, bonded, and insured.
In addition to cleaning your interior and exterior windows, we also clean mirrors, ceiling fans, skylights, and chandeliers. We also offer power washing.
No job too big or too small. Our uniformed professionals can handle everything from a local flower shop to a college campus. We've led the industry with a premiere safety program to ensure the protection of our customers and cleaners. We also provide the peace of mind that licensed, bonded, and insured window cleaners will be maintaining the appearance of your business. Let FISH brighten your world at work.
Call
(781) 646-0405
and tell Ashely you want a free estimate. She'll send Mark right over!
Fish Window Cleaning locations are independently owned and operated. The core services include commercial and residential window cleaning. Additional services may be offered by some but not all franchised locations. Additional services are at the discretion of the franchise owner.