You can rely on us to make your windows shine beautifully, polish your chandelier, and clean out your gutters while respecting your home. We provide the highest quality service while being careful to protect your belongings. We wear clean shoe covers and use absorbent cloth pads underneath the windows to protect your carpet and wood floors. We are bonded and insured professionals you can trust. We even introduce you to our team of friendly, uniformed window cleaners before we begin cleaning so you know exactly who is making your home shine!
Click here for more information about our residential services.
"Their team can be trusted to come into my home without my having to 'put things away'. Their friendliness brightens my day."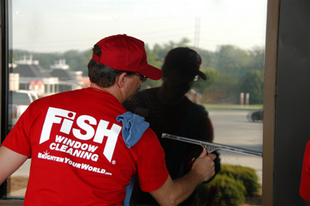 Your Business
The success of your business is important to us too! That's why we want to help give your customers a great first impression by maintaining the appearance of your business all year long! We can remove all fingerprints, streaks, smudges, and cobwebs from your large storefront windows, your office windows, your restaurant, or your sales floor. Regardless of your budget, schedule, and specific needs, we can customize a program that will work best for you. A member of our professional staff would be happy to suggest a cleaning schedule that would fit the needs of your business. We are licensed, bonded, and insured for your protection and the protection of our cleaners.

Click here for more information about our commercial services.
"Working with FISH has been a great pleasure, which is attributed to their consistent reliability and great communication."
Serving the following towns:
Amston, Andover, Ashford, Baltic, Bolton, Bozrah, Brooklyn, Canterbury, Centerbook, Chaplin, Colchester, Columbia, Coventry, Danielson, Dayville, Deep River, Eastford, East Killingly, East Lyme, Essex, Gales Ferry, Gilman, Groton, Hampton, Hebron, Ivoryton, Jewett City, Lebanon, Ledyard, Mansfield Center, Marlborough, Mashantucket, Moosup, Mystic, New London, Niantic, North Franklin, North Grosvenordale, North Stonington, North Windham, Norwich, Oakdale, Old Lyme, Pawcatuck, Plainfield, Pomfret Center, Preston, Putnam, Quaker Hill, Quinebaug, Salem, Scotland, Somers, Stafford Springs, Sterling, Stonington, Storrs Mansfield, South Windham, Taftville, Thompson, Tolland, Uncasville, Voluntown, Waterford, Willimantic, Willington, Windham, Woodstock, Woodstock Valley
Serving the following zip codes:
06447, 06442, 06426, 06420, 06417, 06415, 06409, 06385, 06384, 06382, 06380, 06379, 06378, 06377, 06375, 06374, 06371, 06370, 06365, 06360, 06359, 06357, 06355, 06354, 06351, 06349, 06340, 06339, 06338, 06336, 06335, 06334, 06333, 06331, 06330, 06320, 06282, 06281, 06280, 06279, 06278, 06277, 06269, 06268, 06266, 06264, 06262, 06260, 06259, 06256, 06255, 06254, 06250, 06249, 06248, 06247, 06243, 06242, 06241, 06239, 06238, 06237, 06235, 06234, 06232, 06231, 06226, 06084, 06076, 06071, 06043