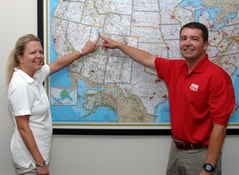 We're located at:
1124 West South Jordan Parkway Suite A Lower, South Jordan UT 84095
Residential Customer Testimonials
"Very pleased with the way my windows and screens look. Becky was very professional and very detailed. I would give you 12 STARS and would recommend Fish Window Cleaning to friends and family. Thanks for great service."
- Ferol H.
"Fish Window Cleaning has stepped in to help us out with last minute requests, in addition to servicing our stores across the Wasatch Front. They have done so professionally and courteously. We greatly appreciate the service Fish Window Cleaning provides."
- Tracey M.
"This is the second year I have had Fish out to clean my windows. They do an outstanding job!!! There is nothing like clean windows! They take the time to do a really thorough job. Courteous with their interactions. I usually dont write reviews, but I have to acknowledge excellent work. Grant is a hard worker and deserves recognition as well. Thank you."
- Heidi H.
"First of all... WOW! I am SO impressed with my window cleaning services that I had yesterday. Really, totally blown away at the difference that professionally cleaned windows and screens can make. Even my husband walked in and said... "Holy cow! I can't believe how MUCH better the windows really look!" I am thrilled to blog about our experience with your company. We've also been using the fish foam and it's becoming a fast favorite for cleaning. Mostly because my kids (who are in charge of cleaning their bathroom mirror and sink) can now clean with literally no mess. Usually I have to go back and wipe up drippy messes from spray-on windex, but with the foam I don't have to! Love that! I just wanted to let you know that we really enjoyed everything and that your employee you sent out was not only a really hard worker, paid attention to detail and did a fabulous job... but was also really friendly and clean cut. Sometimes it's a bit uncomfortable to let people into your home to work, but I didn't feel any anxiety at all, due how quickly he worked and how polite and considerate he was. We will definitely be using your company again in the future. Thank you!"
- Shelley Smith - http://thehouseofsmiths.com
""They actualy cleaned them (Gutters & Downspouts )in the rain, they were on time, and courteous.""
- Robert G.
""Rick was very friendly and considerate of my home. He is a very clean person, which is important to me when he/she is doing work in my home. The windows look great and even if they hadn't after he left, he made sure I knew he wanted me to call him to come back and take care of any problem. I will be recommending him to all my family and friends.""
- Donna R.
"I thought he did a wonderful job! He did exactly what He quoted me rid the hard water stains and really spent a lot of time and did it right. I definitely would recommend fish window cleaning."
- Baker A
"The two window washers were very pleasant and speedy in cleaning my windows. They were friendly and approachable. I was told that if, during the subsequent few days, the windows developed streaks, this company would come back out and take care of the problem for free. I will definitely use this company again"
- Margaret M
Commercial Customer Testimonials
"They were easy to work with, gave the quote, and did the job in a timely manner."
- Robert H.
"Great job. Quick and done right. Windows look great!"
- Eric S.
"They did great. Tech was on time and the windows are crystal clear."
- Janet P.
"had a BIG 92,000 square foot 4 story post construction clean up. My usual window washer cancelled due to illness at the last minute. Rick came through for me and did an absolute stellar job. I have passed his business cards to my associates and we will be sending more work his way soon."
- Jackie Jansen, Jan-Pro Cleaning Systems of Utah