Welcome to Fish Window Cleaning - your local window cleaning company servicing Santa Monica, Culver City, Playa Vista, Mar Vista, Palms, Marina Del Rey, Venice, Westwood, and West Los Angeles, CA.

Regardless of how dirty your windows are now, we can make them sparkle like new! Whether you need a one-time clean-up, your home needs to be cleaned twice a year, or your business needs to be cleaned weekly, we're here to help brighten your world!

Your Home

You can rely on us to make your windows sparkle beautifully, polish your chandelier, and clean out your gutters while respecting your family and your residence. We provide the highest quality service while moving around your home carefully. We wear clean shoe covers and use absorbent cloth pads underneath the windows to protect your carpet and wood floors. Our cleaning solution is environmentally-friendly so you and your family are not subjected to harsh fumes. We even introduce you to our team of friendly, uniformed window cleaners before we begin cleaning so you know exactly who is making your home shine!

Our services for your home include:
Interior & exterior window cleaning
Storm window cleaning
Screen cleaning

Gutter cleaning
Mirror cleaning
Skylight cleaning

Ceiling fan cleaning
Chandelier cleaning
Outdoor light fixture cleaning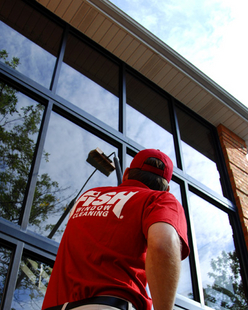 Your Business

The success of your business is important to us too! That's why we can maintain the appearance of your business all year long! We can remove all fingerprints, streaks, smudges, and cobwebs from your large storefront windows, your office windows, your restaurant, or your sales floor. Regardless of your budget, schedule, and specific needs, we can customize a program that will work best for you. A member of our professional staff would be happy to suggest a cleaning schedule that would fit the needs of your business. We are licensed, bonded, and insured for your protection and the protection of our cleaners.
Our services for your business include:
Interior & exterior window cleaning
Ceiling fan cleaning
Chandelier cleaning

Skylight cleaning
Mirror cleaning
Customized programs

Customized programs
Year-round scheduling
Various billing options
We accept cash, checks, and all major credit cards for your convenience!

We serve the following zip codes: 90401, 90402, 90403, 90404, 90405, 90230, 90232, 90291, 90292, 90024, 90025, 90034, 90064, 90066, 90094