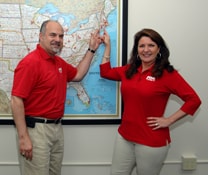 We're located at:
2179 Boston Turnpike, Coventry CT 06238
Residential Customer Testimonials
"Crew was great and very pleasant."
- Linda P.
"Prompt, efficient. Except for clean windows, you would not know they had been at our home. Very happy."
- John B.
"Courteous crew, even did garage and basement windows. Did not spill water on floor."
- Robert V.
"Great job!"
- Karen S.
"This is my second year using your service and love it. The fellows are great, fast, reasonably priced, and do a great job. Will recommend them to friends and family. A happy senior citizen! Thank you."
- Fran I.
"We are repeat customers. The service was thorough and professional."
- Elizabeth S.
"They went above and beyond. They were very, very careful around the objects and furniture in the house, and professional and careful when on the roof and high ladders. A completely unstressful experience!"
- Dunja P.
"This crew took great pride in their work. They even brought me out to the garage to show how clean the garage door windows were. I am very happy with this company and will definitely use them again."
- Jean D.
"Impeccable service by an excellent team of professionals. Thank you."
- Francois H.
"Crew was great and very professional. I would definitely hire them again!"
- Susan H.
"Very courteous crew...our windows haven't been cleaned for 2 yrs. and now they look wonderful!"
- Donna P.
"The cleaners were wonderful! Polite and accommodating. I didn't move anything, and they worked around the curtains and furniture very carefully. The work was great! I'll recommend and use this group in the future. Oh yeah, the price was excellent too!"
- Kathy W.
"A team of 4 - very fast, efficient, and thorough. They were respectful, very nice, and I'd be happy to have this team back anytime!"
- Cheryl M.
"Ray Proto and his team are exceptional, and I highly recommend them to beautify your home!"
- Lisa P.
"This is the second year I've used FISH. It will not be the last. Excellent, professional service! A company I can trust to do the job right and when they say they will."
- Ingrid T.
"Your workers and their work was excellent."
- Phyllis R.
"They are just very fine people who are on time & on budget each time that I worked with them. I intend to do so again, next year!"
- Jay L.
"Excellent service. Very professional! Affordable."
- Kris J.
"Very dependable. I have used your company several times."
- Judith A.
"I will definitely be a repeat customer! Extremely satisfied with the job."
- Karen L.
"I was very happy and very pleased with the service they provided. They addressed any concerns I had. I would recommend there service to anyone that asked."
- Patricia G.
"Our windows hadn't been cleaned in years and were very dirty but they are spotless now. The guys were super friendly and worked around our son working from home. We will definitely be using FISH again."
- Cindy S.
"They were very professional and respectful. We were very pleased."
- Terry T.
"We needed to reschedule due to heavy rain and thunderstorms, was pleased that they were able to come two days later. Thanks for the great customer service."
- JoAnn S.
"Great job, very professional. Would definitely use again."
- Tom S.
"The team was timely, courteous and efficient. The windows look better than new!"
- James A.
"Well done! We will use your services again, and spread the word. Thank you."
- Bruce D.
"What a great operation from Drew who came to my house to give me the estimate to Brian who did the work (an awesome job) and Ray the owner, price is right service is great. Highly recommend Fish Window Cleaning"
- Karl P.
"Elliot, Brian and Nick were very professional and friendly. They did a good job and really cared about their customer."
- Scott & Chris M.
"It was very fast and the windows look great."
- Rob L.
"The 3 gentleman were wonderful kind and considerate. They did a wonderful cleaning!"
- Beth J.
"The guys were great. Friendly and a good job done."
- Nancy L.
"Guys did a great job! Very courteous, very professional!"
- Michael P.
"4 courteous men came to our house when they said they would. Saved us a LOT of time and energy. Would definitely have them return and will recommend them."
- Roberta A.
"Professional and friendly - the team did a great job!"
- Jennifer K.
"Quick and easy!"
- James T.
"Excellent job - workers were great and did an amazing job. House and windows look like we just moved into a new house."
- Janet B.
"Great job by the crew of 3. Will have them back next year."
- Brian C.
"The young men were pleasant and professional."
- Deborah D.
"Awesome job! Very professional and friendly!"
- Joan W.
"The guys who came were professional, polite, and diligent in getting their work done. The even helped wrangle a neighbor's dog who came down to help LOL"
- Delores M.
"I was thrilled with the job they did and my sparkling windows. 4 young men were fast and did a good job, less than a 1/2 hr. I put your ad on my Facebook page to tell others about your company and will highly recommend you to anyone that needs your service. Thanks for a job well done."
- Fran I.
"Our windows never looked so good."
- Lisa D.
"This is the 2nd year we have had our windows spring cleaned with your services. We thought you were good the first time. This year was even better- excellent job!"
- Sue M.
"This crew, headed by Will was outstanding. Friendly, efficient, professional. Literally could not have done a better job with the work or with the task of building good will for your company."
- Jonathan P.
"Workers were very nice and professional - already recommended them. Will have their service again in the future!"
- Timothy K.
"Very professional service. I definitely would recommend them."
- Helen W.
"Wonderful, efficient job and now beautiful clean windows!!"
- Anne W.
"Great job, promptly scheduled."
- Michael O.
"They were all very polite very professional and they work very fast and efficiently. After we saw the completion of the work the wife and I decided we will have them back next year. I told my brother and my sister and one of my neighbors I highly recommend they hire this company."
- Dan C.
"Excellent service. Very professional and easy to contact."
- Kate P.
"Very well done. Would use again."
- Tom N.
"Professional, prompt and courteous service for cleaning my gutters - They made the entire process easy for me from the first contact to payment. I would highly recommend Fish Window Cleaning. Thanks so much!"
- Frances G.
"From the moment the team arrived they were pleasant, professional, introduced themselves and got right to work. The work they did was beyond my expectations and I will highly recommend them and will call them again the the spring."
- Susan F.
"They did a great job. The workers were very nice and courteous."
- Stephanie H.
"Ray Proto and his crew were a marvel to watch in action. They were so efficient and quick that we expected a half done job. Upon inspection, we couldn't find one thing to complain about, they were like a well oiled machine working in unison. In addition, the crew pointed out a cracked window (from a previous cleaning company) before starting to clean it. When all was done, Ray contacted a local supplier and got a reduced cost replacement sash ordered for us. He even came back and installed it for us. Now THAT is good customer service. They will be our only window cleaning service going forward!!"
- James O.
"Terrific job, very friendly and accommodating."
- Bill W.
"Ray and his crew do outstanding work. They go beyond expectations, such as cleaning skylights and even blowing leaves off the roof! They work quickly and do a thorough job. They are a pleasure to work with."
- Steven F.
"I am very impressed with the quality of service and professionalism of this company. The price was very fair AND they have superior customer service. I initially had a minor concern about the work quality, so the next day I emailed the owner, Mr. Proto, and he personally came with his crew back out to our property immediately to survey the work and ensure top quality results. Within two hours of sending an email the work was fixed and exceeded expectations. Now THAT is the hallmark of a good company, customer service is EVERYTHING and Mr. Proto (and his team) delivered. I will be doing business with Fish Window Cleaning again. Thank you!"
- Alan M.
"Couldn't have been a nicer group of guys, and really efficiently got the job done in a short amount of time. Hope to see you all again in the future."
- Joanne K.
"Your company is the best. Thank you for a great job."
- Carole S.
"We appreciate your prompt reply and availability. We will certainly keep you in mind for other jobs. Stay safe and well."
- Leon O.
"Would definitely recommend, did a good job on windows, very courteous, responded to my call right away. Drew was great to deal with."
- Diana B.
"The guys were polite, rapid and did a good job."
- Anne E.
"Nice Job."
- Frank E.
"Excellent job!!!"
- Anne G.
"Wonderful company and employees. Respectful, polite, and great bunch of workers. They did a great job on my windows! Highly recommend."
- Patty P.
"Outstanding job done."
- Ivan L.
"I have already recommended Fish Window Cleaning to my friends and family. Professional, courteous and a terrific job done."
- Patricia U.
"Great job. Couldn't be happier. The guys taught me a trick or two about our windows and fixed an issue we had with how the windows sit in the panes. Well done guys."
- David S.
"Those of your employees that came out today were meticulous. We are always pleased with the quality of work no matter who comes out...They are THAT GOOD! We know this because we retired from customer service positions in a Fortune 500 company and that says it all!! We are repeat happy campers! Thanks again...Hope to see you next year."
- Ana & Perry P.
"Impressive team. Prompt, courteous and hard working. Excellent job for a fair price. I will call them again and refer my friends!"
- Julie V.
"Awesome, I feel like I'm living in a fishbowl now everything is so bright and shiny and streak free. The workers were delightful, such nice young men, we had lovely conversations while they were working, these young men are cream of the crop, refreshing in this day and age group. Will highly recommend to friends."
- Sharon S.
"They did a great job."
- Serena B.
"You and your crew absolutely exceeded my expectations, and I was very impressed with your thoughtfulness and energy. You had everything under control from the start. The entire crew was professional, knowledgeable and obliging. My house sparkles; I only wish I'd planned a party to take advantage of it. Thank you."
- Sandra C.
"They did a great job."
- Debbi H.
"Your guys were amazing and professional. Josh answered all of my questions and even let me know my roof was in good shape. It was also very telling that when asked how it was to work during these tough times, he said it was good because his boss took great care of his staff. That spoke volumes to the company. I love to do business with those who treat their employees as well as their customers. He was a pleasure to work with and I would absolutely work with the company again."
- Christine P.
"Thanks to Josh, Brian and Andy for a job well done."
- Edith A.
"Great crew."
- S. P.
"Above and beyond helpful, thanks so much!"
- Joanne K.
"These guys were great, courteous, prompt and fit us in at the last minute just before Thanksgiving, I would recommend to anyone."
- Lawrence R.
"Came quickly. Used before and will again"
- Judith A.
"Strongly will recommend and will use this service again my house is almost three hundred years old although gutters new in last ten years I neglected cleaning for years and they were pretty clogged your company explained what condition they were in and cleaned them plus Cleaned up the mess afterwards. I appreciated being called by company after I went on line to find a gutter cleaner your company was only one to respond and came to my house to see what needed to be done. They followed up with a call to make an appointment and came out on an especially cold day and did the work. Excellent service."
- Susan H.
"As usual, above par. I really appreciate your staff knowing the routine with putting up my ancient storm windows."
- Berta B.
"Fish Window cleaning was fair and professional, I was very happy with the results. I will use them again."
- Melissa A.
"We appreciated how quickly the work was completed and love the beautiful results. Our house looks fantastic."
- Tina G.
"The crew was friendly and cleaned up very well! I am having them come back and do our windows next week!"
- Raymond C.
"My windows have never been so clean, well worth the money. Will have this done every fall and/or every spring."
- Rachel M.
"Superior service provided by competent professionals in a timely manner."
- Edward R.
"What a great experience! My cleaners were very professional and courteous. I would highly recommend your company!"
- Marybeth L.
"FISH services met my needs perfectly; job impeccably and professionally done!! They provide a wide variety of services making it easy for a homeowner to maintain property. Will call again for service thru the year.. many thanks!!"
- Ellen Y.
Commercial Customer Testimonials
"There were 2 young men; they did a great job."
- Diane P.
"Nice job!!!!"
- Larry E.
"Very prompt and excellent service."
- Jim R.
"Crew did an excellent job. They were careful and thorough."
- Tom A.
"Our cleaner was very nice and personable!"
- Nakitta M.
"We were very pleased with the work done on our gutters. Above and beyond what we spoke about and at the same price quoted!!! So pleased we are going to have our windows done in the spring and keep on a regular gutter cleaning schedule! Thanks."
- Cathy M.
"Your staff did a great job. Our building looks great now. Thanks for a job well done!"
- Mark P.