Commercial Window Cleaning
Fish Window Cleaning - Los Angeles South Bay
South Bay's #1 Commercial Window Cleaning Company!
Call for a FREE, on-site estimate:
What is the first thing your customers see?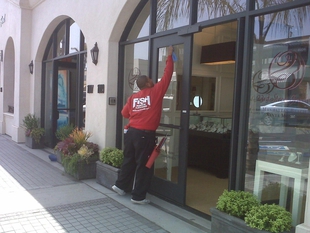 Most likely, it's your windows and glass doors.
Your customers pay attention to your business' appearance and in these economic times, it's more crucial than ever to send a message of strength, vitality and optimism. And your windows can do just that!
You get one chance to make a first impression.

Most stores and restaurants hire FISH to clean their windows every 2 or 4 weeks. We clean the inside and the outside and remove all fingerprints, smudges, and cobwebs, giving your customers a great impression. Got a
large job
or
scratched glass
– FISH can help you too!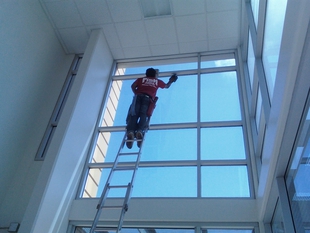 Sparkling windows are not only a reflection on your business; they're a reflection on ours. That's why we are committed to your satisfaction. Our exceptional quality and service are unmatched.
Does your window cleaner creep you out?

Our cleaners are always in uniform and we smile when we work – we like what we do! We are licensed, bonded and insured and we clean quickly and quietly so we don't disturb your employees or your customers.
We accept credit cards and online payments too!
Do you have scratched glass or graffiti?

FISH can remove scratches and acid etching from your glass - saving you 50% - 70% - without the hassle of replacing the glass. Check out our
Scratched Glass Repair
service for more details.
Call 310-973-3474 to customize a program that meets your budget, needs, and schedule. We'll make your business SPARKLE!
---
"Before FISH, our employees did our windows. Once we started using their service, our customers noticed the difference and we received many compliments. They show up every 2 weeks like clockwork and are quick, friendly and do a great job. We now consider the guys in Red FISH shirts as members of our staff. Thank you Fish Window Cleaning!"

R. James - Restaurant Owner Redondo Beach
Our Commercial Services Include:

| | |
| --- | --- |
| Stores, Offices, & Restaurants | Large Jobs and High Rise Buildings |
| Sign Cleaning | Reliable Year-Round Schedules |
| Pressure Washing | Customized Cleanings |
| Emergency Cleanings | Construction Clean-up |
| Accept Credit Cards | Various Billing Options |
---
Large Commercial Window Cleaning Jobs
Whether it's just your store front, the whole building or the entire complex, FISH has the personnel, experience and equipment to safely handle the job!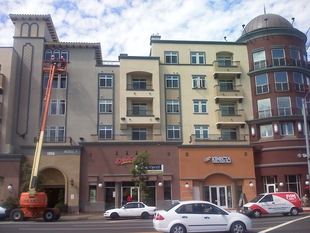 Why do Property Managers depend on Fish Window Cleaning?
Personnel–We employ full-time professional window cleaners that are properly trained and certified to operate the equipment and get the job done right.
Knowledge–FISH is a national franchise in 220 US locations. Our collective experience and training is un-matched!
Safety–All cleaners are trained weekly in proper techniques and OSHA safety regulations. All large jobs are surveyed by our Risk Management teams to ensure the job is done properly with the lowest risk to customers and employees.
Reasonable Pricing–FISH uses industry standard pricing and leverages its experience to properly estimate large jobs and stay within budget. Just ask our references!
Dependability–We are professional from start to finish. Our cleaners show up on time, work efficiently and communicate with progress reports until the job is complete.
Large or difficult job, call FISH at 310-973-3474. We make the tough jobs look easy!