Welcome to Fish Window Cleaning Baton Rouge! We are your local commercial and residential window cleaning, pressure washing, and soft wash company serving Baton Rouge, Gonzales, Prairieville, and Sorrento, LA.
You can trust Fish Window Cleaning to get the job done right! We'll help keep your home or business consistently looking its best all year long! Why has Fish Window Cleaning grown to be the largest window cleaning company in the world?
We are committed to your satisfaction. If something isn't right, we'll make it right.
We provide hassle-free service.
Our team consists of trained and uniformed window cleaning professionals.
We lead the industry with our premier safety program.
We are licensed, bonded, and insured.
We offer customized programs to fit your needs, budget, and schedule.
We show up when we say we will be there.
We care.
---
"I rarely comment on home services but my total experience with your company was exceptional from start to finish. I even received a follow up call to ask how everything looked. I would not hesitate to recommend you to my friends and neighbors. There's no doubt that I will use you again in the future. Great job!"
"I would like to take this opportunity to thank your local staff in my area for their amazing professionalism, the quality of work, and customer service that they provide to us!"
---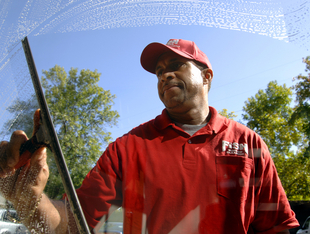 Your Home
We want to help keep your home looking its best all year long! We know it can be difficult to keep a house looking great when you have a job, children, and many other responsibilities. That's why we want to help take care of those tedious, time consuming tasks that need to be done - window cleaning, pressure washing, soft washing, skylight cleaning, chandelier cleaning, and more! We make window cleaning as easy as possible for you with our free estimates, and hassle-free business. We clean quickly and quietly so we don't disturb your family. You can just sit back and enjoy your now sparkling windows!
Click here to learn more about our residential services.
Your Business
Since we are a business too we understand how important it is to customize our cleaning services to meet your specific needs. We offer cleaning services based on your schedule and budget. You can rely on a member of our professional staff to make an honest suggestion of what would work best for your business. Whether your windows need to be cleaned once a month or once a year, no job is too big or too small for us! We also provide pressure washing services so we can take care of your parking lots, sidewalks, and more! Our window cleaners are licensed, bonded, and insured for your protection and the protection of our cleaners. As a business owner, you understand how important it is that your customers are satisfied and that's why we are committed to your satisfaction!
Click here to learn more about our commercial services.
Serving the following zip codes:
70710, 70719, 70737, 70767, 70769, 70778, 70801, 70802, 70803, 70805, 70806, 70807, 70808, 70809, 70810, 70811, 70812, 70813, 70814, 70815, 70816, 70817, 70818, 70819, 70820, 70836