About Us
After seven years in banking, Mike Merrick walked through a brand new "window" of opportunity and founded Fish Window Cleaning in January, 1978. Mike quickly differentiated himself from his competition by providing his customers with uniformed professionals and reliable scheduling at a competitive price. He made each customer feel as though they were the only customer.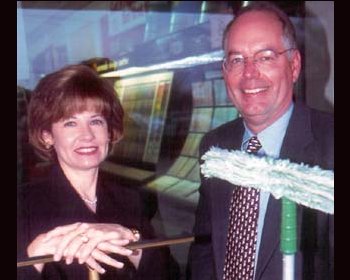 Based on growing demand and his success, he realized there was a need for this service in other markets. Mike used his 20 years of experience to create the Fish Window Cleaning franchise system. In 1998, the first FISH franchise location was opened in Tampa, FL. Since then, Fish Window Cleaning has grown to more than 250 franchise territories in 43 states.

Thirty-five years later, the company still maintains the traditional values it was founded on. Although we are now the world's largest window cleaning company, we will always treat every customer as though they are our only customer.
FISH provides service to more than 200,000 commercial and residential customers nationwide. We specialize in cleaning: ground level storefronts; one, two, and three story office buildings; restaurants; banks; churches; schools; and homes.

Whether at work or at home, FISH can offer a variety of services such as: exterior windows of all types, storm windows, screens, mirrors, chandeliers, ceiling fans, gutters, and skylights.
Fish Window Cleaning is fully insured, has a strong reputation for outstanding service, and a solid business foundation. Free estimates and customized service plans tailored to each customer's needs and budget are just a few offered benefits.

As the leader in the window cleaning industry, the entire FISH family is committed to brightening your world.

With 250 franchise offices nationwide, odds are there's a location near you. Visit our Location Map to find your local FISH office!


Customer Pledge of Satisfaction
We pledge to provide the highest value in window cleaning service. We will deliver superior service to every customer, every time, because we are committed to customer satisfaction. Our commitment to this pledge is your guarantee of quality performance.
Mission Statement
Fish Window Cleaning® will dominate the market and be "clearly seen" as the best and most respected window-cleaning company in the world. We will continue to accomplish this by providing: Superior service to our customers. Unmatched support and partnership with our franchisees. Personal and professional growth to our employees.
Our Vision
United in common purpose and leading by example, through innovation, productivity and utilization of our proven proprietary business system:
We will guide our franchisees to realize and exceed their business goals.
We will develop and empower employees to their maximum potential.
We will create the best work environment for every employee.
We will create and build brand equity.
We will reflect our customers' quality image and brighten our community.

Fishlosophies
Honor God and family.
Honesty – You can believe what we say.
Integrity – We say what we mean.
Commitment – We do what we say.
Promise – We keep our promises.
Available – We are always available.
No excuses – Do it right the first time.
We care and we help.
We succeed.
We have fun.