We clean gutters too!
Save time and money by having the same reliable, insured company that cleans your windows, clean your gutters as well! Why trouble yourself with finding an additional crew? At Fish Window Cleaning, we are committed to customer satisfaction. Whether it be your windows, your gutters, or anything else on your "to-do" list, if your world isn't bright, neither is ours!
We do gutters the right way; we get up at level with your gutters, removing all debris, and dispose of it off site! We then proceed to flush out any remaining debris with a hose and check all downspouts for flow. If need be we will clear the obstructed downspouts. While on site, our professionals will notify the customer of any concerns with the gutter's pitch, flow, and potential leaks.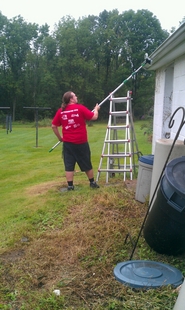 One of the most overlooked services to your home or business is probably gutter cleaning. Since it is out of sight, it tends to be out of mind. You don't think about getting it done until your gutters are overflowing, leaking into your house, or you see plants starting to grow out. Once this happens, you can be causing untold damage to your foundation, walls, ceiling, roofing, and the gutters themselves.
It is smart to get regular gutter cleanings to prevent this from happening. Remember, just because you might have gutter guards, this does not mean you are immune from having your gutters cleaned, over time dirt and debris make their way in and can cause backups, gutter guards can come loose, or dirt can simply accumulate on the guards themselves rendering them all but useless.

Now offering Gutter Façade Cleaning! While our normal gutter cleanout service does not include cleaning the exterior of the gutters, we can do that too! Using specialized chemicals and tools, our technicians can remove most of the unwanted dirt and dark lines that show up on your gutters over time without damaging the gutter's color and finish. Go to our main page to fill out a request to get a FREE ESTIMATE!