Welcome to Fish Window Cleaning of Chagrin Falls, Hudson, Gates Mills, Akron, Brecksville, Beachwood, Bath, Solon, Stow, Fairlawn, Macedonia, Twinsburg, Mayfield Heights, and Kent, OH!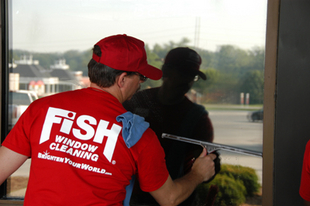 Call today for a FREE on-site estimate: 330-688-4700
We serve Akron, Hudson, Bath, Stow, Kent, Fairlawn, Macedonia, Twinsburg, Beachwood, Chagrin Falls, Solon, Brecksville, Mayfield Heights, and Gates, Mills, OH!
Clean windows can make a big difference in the look and feel of your home or business! Our services include interior and exterior window cleaning, glass door cleaning, window sill and screen cleaning, gutter cleaning, chandelier cleaning, awning cleaning, and more! To learn more about how our services can Brighten Your World, contact us today!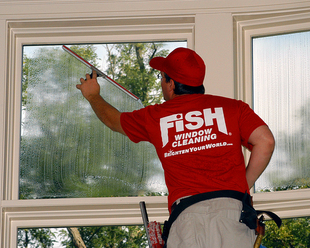 Your Home
The appearance of your home is very important to you and it's important to us too! That's why we work hard to make your windows, gutters, chandeliers, and more sparkle. We even take care of your home while we're working by wearing fresh, clean shoe covers and using absorbent cloth pads as we clean to protect your floors. Our cleaning products are environmentally-friendly so you and your family, including your pets, don't have to worry about harsh fumes. We guarantee you'll love the way your clean windows brighten your home!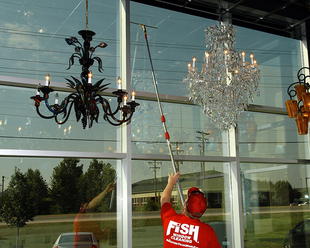 Your Business

Making a great impression on your customers is crucial. Let our licensed, bonded and insured team at Fish Window Cleaning help by maintaining your storefront, showroom, or office. We'll make sure your windows, glass doors, mirrors, and more are streak- and spot-free. We offer customizable service programs tailored to meet your needs, budget, and schedule. Our cleanings can range from weekly to annually and our team will be happy to suggest a program that would work well for your business. We clean quickly and quietly so we do not disturb you, your employees, or your customers. As always, we 100% guarantee your satisfaction!
We are the largest window cleaning company in the world with over 125,000 satisfied commercial and residential customers.
Take a look at what our customers are saying about our services.
Fish Window Cleaning has grown to be the largest window cleaning company in the world because:
We clean interior and exterior windows for homes and businesses up to 3 stories.
We can customize our cleaning programs to meet your needs, schedule, and budget.
We truly care about whether or not you're happy with our services. That's why we offer a 100% customer satisfaction guarantee.
We're professional. Our uniformed cleaners are licensed, bonded, and insured.
We are easy to work with and hassle-free. We do not require any written contracts.
We show up as scheduled.




We serve the following zip codes:
44022, 44040, 44056, 44067, 44087, 44122, 44124, 44128, 44139, 44141, 44146, 44221, 44223, 44224, 44236, 44240, 44241, 44243, 44262, 44264, 44278, 44310, 44313, 44333