Welcome to Fish Window Cleaning! We are your local window cleaning company for Columbia and Jefferson City, MO.

Contact us today for a FREE on-site estimate!
(573) 445-5392
"I rarely comment on home services but my total experience with your company was exceptional from start to finish. I even received a follow up call to ask how everything looked. I would not hesitate to recommend you to my friends and neighbors. There's no doubt that I will use you again in the future. Great Job!"
Click here to read more testimonials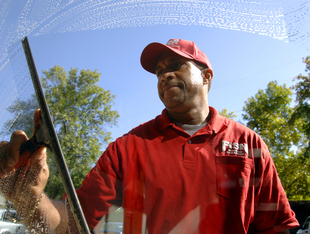 Fish Window Cleaning has been working hard to Brighten Your World since 1978. We have grown to be the largest window cleaning company in the world with over 125,000 satisfied commercial and residential customers. Some benefits of choosing Fish Window Cleaning include:
Interior and exterior window cleaning for homes and businesses
Free on-site estimates provided for all of our services
100% customer satisfaction guarantee
Licensed, bonded, and insured professionals
Customizable service programs that meet your needs, budget, and schedule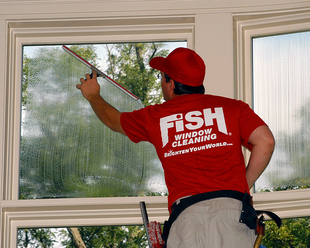 Your Home

Have you been looking for a way to enhance the appearance of your home? Clean windows make a huge difference in how your home looks and feels! Windows that are streak- and spot-free let in more light. We also wipe down your window sills and we can even clean your screens, if requested. We not only clean your windows inside and out, we also clean gutters, chandeliers, mirrors, ceiling fans, and more! Contact us today to find out how we can help you love your home even more. We 100% guarantee your satisfaction!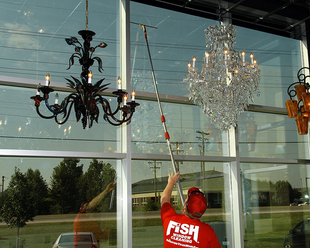 Your Business

We understand how busy you are. You probably don't have time to clean those large storefront windows, glass doors, office windows, and other windows that your customers will see. We help maintain all of the glass in your business to further impress your customers. We tailor all of our service programs to meet your needs, budget, and schedule. No job is too big or too small for us! Our cleaners are licensed, bonded, and insured so you have one less thing to worry about. Call us for a free estimate today!




We accept cash, checks, and all major credit cards.
Serving: 65039, 65201, 65211, 65109, 65043, 65010, 65203, 65101